You will diffently be going to love Acnh easy island ideas(Animal crossing new horizons), you can add custom design slots, houses and even can post ads about your work or business or stalls.
19. Japanese style furniture idea
this idea is one of the great ideas in the game. Through this, you can create your living room or house rooms into Japanese style with Japanese style furniture, giving it an aesthetic look.
There are many things you can do with Japanese style furniture or to make your whole room looks like exact Japanese style rooms you can buy the wallpapers, then you can buy a Japanese pot and many other things you can buy to decorate your room are- Bonsai shelf, Stone table, Tatami chair and many other things.
Select your furniture and make your room better but always choose furniture which room looks like.
Japanese style is a great choice to decorate your room, or you can use more creative ideas, and you can even use custom designs, and that's why I love animal crossing games.
18. Excavation Site island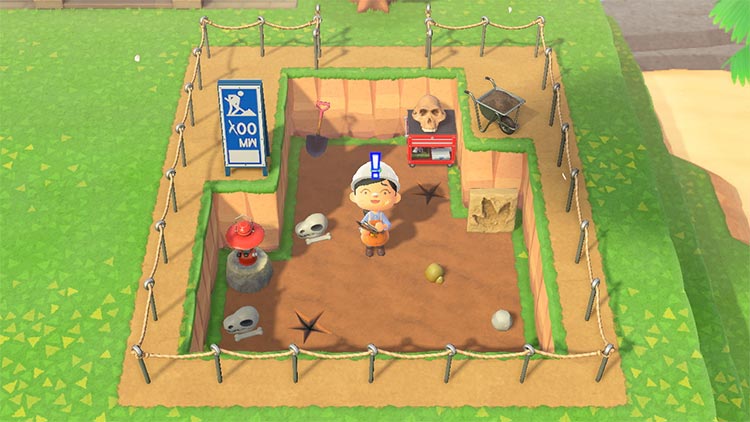 Do you want to take your fossil hunting to a new level?
After that, you should build your own excavation site. It's ideal for storing any additional fossils you uncover.
You can even have spare fossils with perfect location and also some mineral rocks.
And it's ideal for pairing with your museum. Furthermore, if your museum is built on a cliff, you may dig down and construct a multi-layered excavation site.
To bring out your inner archaeologist, bury artefacts, arrange fossils, stones, and even a wheelbarrow.
Finish by erecting safety signs and fences around the area to ensure that none of your people accidentally enter there!
Animal crossing island ideas
17. Kapp'n's Pier idea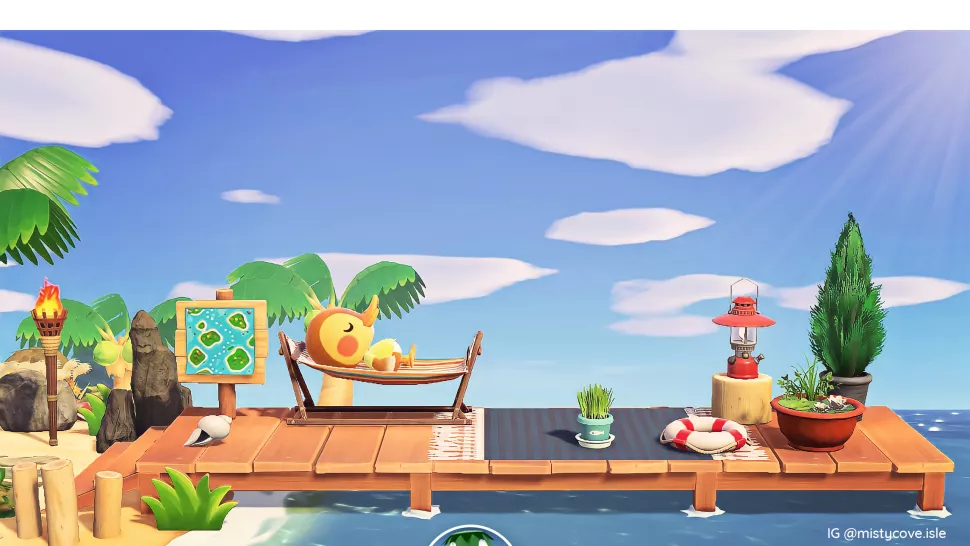 That one fishing decoration you put up a year ago isn't going to cut it now that we're going to Kapp'n's Pier every day to go on fascinating island tours.
Whether you add a fringed rug or a couple of loungers, the pier will quickly become the most fashionable spot on your islands.
You can fill animals on the entire island.
15. Surf Shack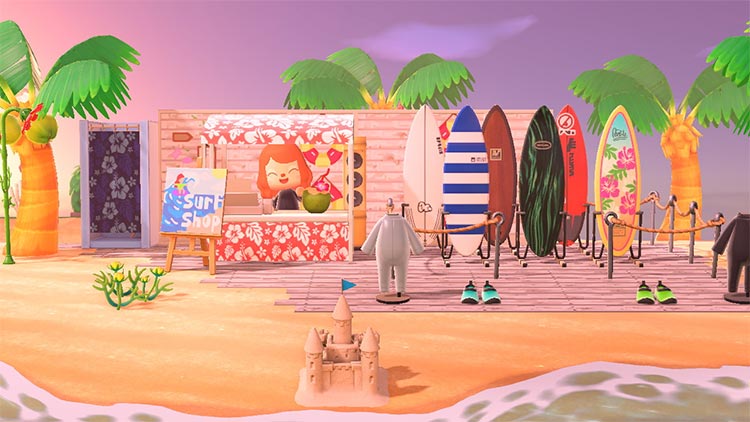 Are you sick of waiting for summer? You're not by yourself.
So, why not bring summer to you by constructing a surf hut on your beach?
All you need is a one-of-a-kind stall in your favourite tropical style. Then throw in some surfboards and some text instead, giveool sandcastles.
You can do and set this up at the beach area.
You can even choose surfing clothes.
Don't forget to plant coconut trees around your hut.
You may even leave your wetsuit and snorkel on the beach, so you're always ready to ride the waves!
14. Star Gazing Area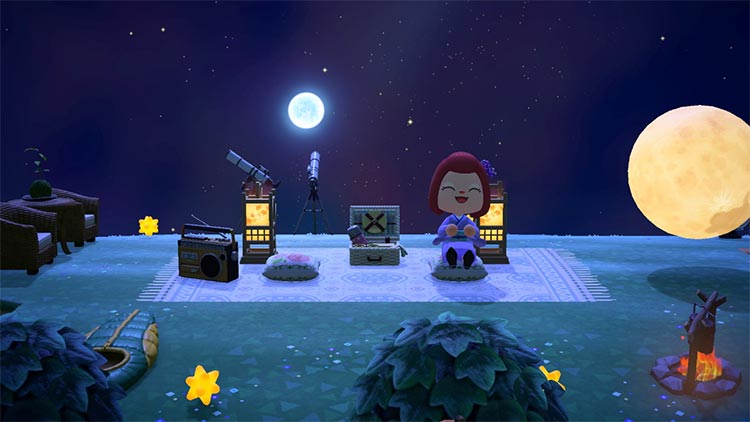 Are you often looking for the greatest place to observe shooting stars on the island?
With this incredibly basic star gazing area, you may now reach for the stars.
Creating your own stargazing place provides you with the ideal location to relax and watch the stars pass by. It also doubles as a fantastic shooting location for you and your pals to grab those Instagram photographs.
All you need are a couple of telescopes, some lights, and your favourite rug patterns. You'll never again miss a shooting star.
13. Outdoor Arcade island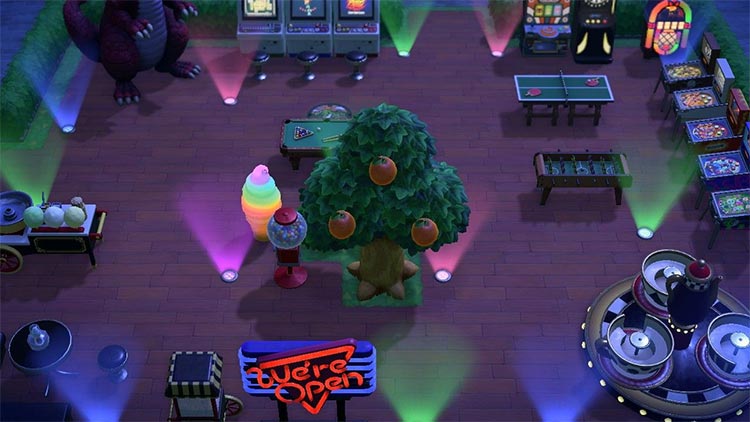 Many ACNH arcades have been built in players' basements.
But what about moving the games outside?
If you have had a hard day and want to chill and enjoy life, you can kill that with an arcade.
That's right: building an outdoor arcade will be a great focal point on your island.
Simply line up as many arcade machines as possible to create the best gaming environment, leaving adequate room for players to squeeze in.
Then, to complete the gaming room experience, consider adding a foosball table and ping pong.
Neon signs and LED floor lights should be included to create a colourful radiance. Nothing beats gaming with your villagers into the wee hours of the morning.
You can even install vending machines and palm trees, and that is why I love the animal crossing game because it gives you so many modifications to do.
12. Sweet Cake Shop island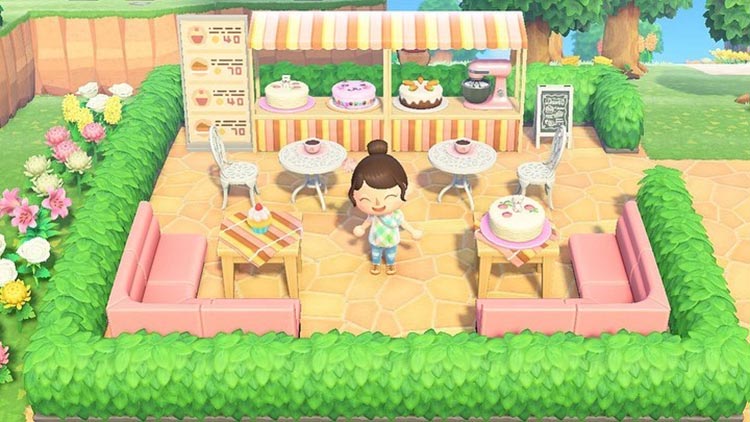 Do you like cake and pastry or sweet kind of stuff and if you are a sweet lover, then this will be one of the best for you.
Give in to your sweet cravings by opening your own cake store, and with that, you can get different orders, maybe a birthday cake or wedding cake, and it's fun to make them even there.
You can be hit in the city or your town and invite people and friends to sit and taste a bunch of sweets.
Your mother will send you a Birthday Cake on your birthday. You may also get wedding cakes by shooting great images for Reese and Cyrus throughout the wedding season.
You may always have a custom design put on a hat if you don't want to wait for those. So it's just that simple!
Finish your store with charming menu boards, a personalised stall, and tables for your customers.
And think if your cake shop will hit and become famous and everyone wants just to visit it.
11. Hiking Trail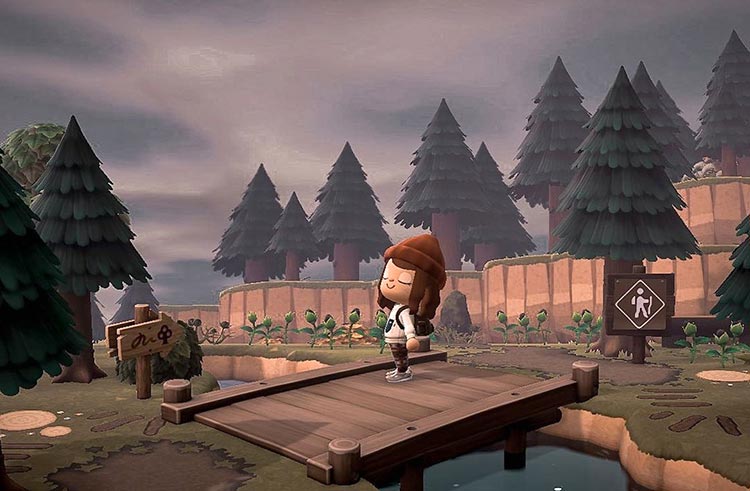 Why not build a hiking route to your island to give it a more natural appearance?
Fill your island with hardwood trees and construct a sleek road that winds around all of them.
You may also use a custom-made sign to mark the beginning of your hiking route!
You can even find fruit trees while going hiking.
If you're feeling particularly bold, you could even surprise fellow hikers with a wonderful little hot spring.
Invite some pals to join you on the trek. It's ideal for a virtual hangout.
10. Cozy Picnic Area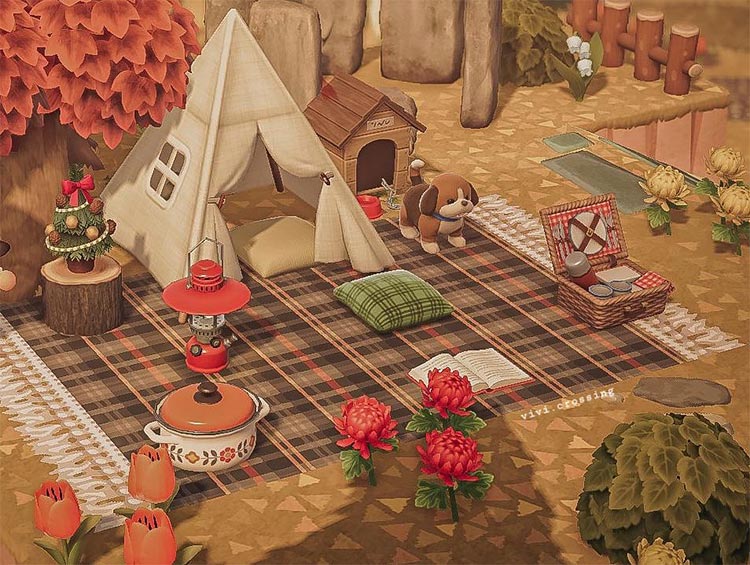 We all need a place to relax and unwind after a long day of fishing and bug catching.
And there's no better place to have a picnic than your own backyard.
The good thing about this is that it also has little details.
Creating an environment like this isn't tough. The perfect blanket may be made with just a few distinctive design choices (this one even has tassels around the borders!).
Put some gorgeous flowers about the area, a picnic basket, and tie it all together with a Kid's tent for the ultimate relaxing sensations.
We must not overlook the dog's residence. Or it may be the puppy. Puppy dogs, after all, make everything better, right?
9. Salon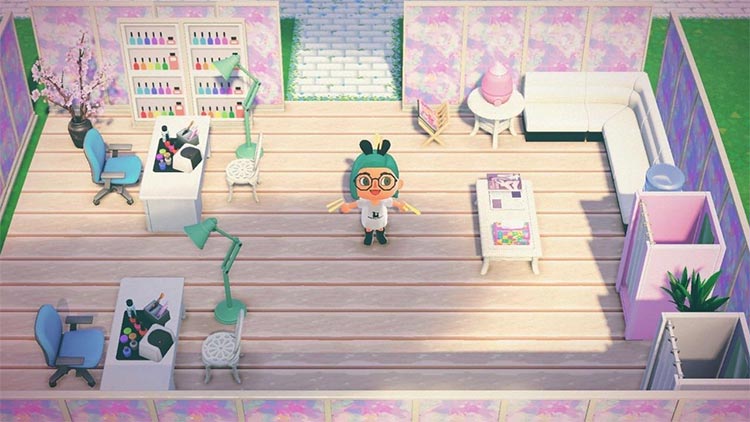 If you want to pamper your villagers' paws, it couldn't be easier to set up a salon on your island. Instead, make a cemetery to go with it.
CustomizCreate a cemetery to match ife favourite designs to add a pop of colour. Simple panels and unique designs can also be used to construct product shelves.
You've got yourself a beauty hut when you add some seats for a comfy waiting area, as well as the salon tables.
The business will be brisk when your locals learn about your grand opening!
8. Pirate Cove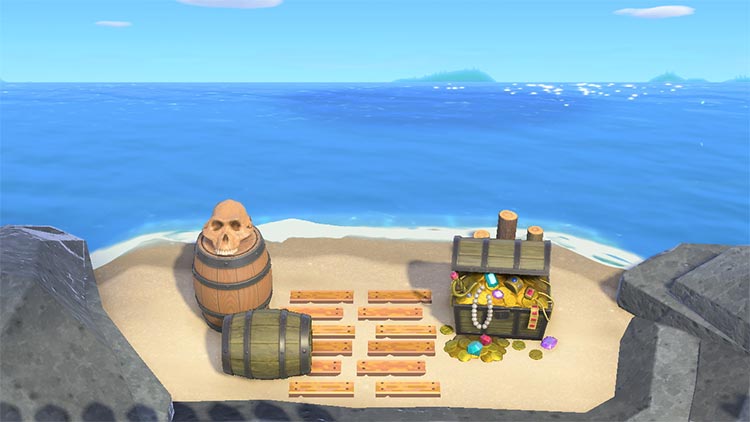 Create your own smuggler's beach to channel your inner pirate!
Gather your favourite pirate artefacts, barrels, and lots of valuables that should be included in the mix.
Then place them in your favourite spot on the beach. It'll look much better if you place it on your hidden beach, so mark it on your island map if feasible.
And remember to assist Gulliver whenever he washes up on your island. He'll give you a slew of pirate loot as a reward. Believe me, and it will look ARGH-mazing!
7. Zen Garden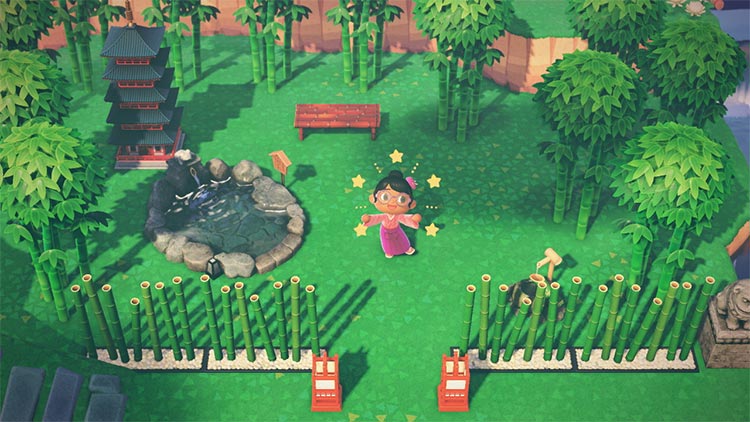 If you want to be one with nature while allowing the plants to do their thing, this is the concept for you.
This garden design is ideal for unwinding after a long day. It's also quite simple to make.
Begin by planting a slew of bamboo plants and erecting some fences to give your island a zen-like atmosphere. Perhaps a little rockpool and a few sculptures can help to bring calm and peace to your new meditation spot.
6. Outdoor Library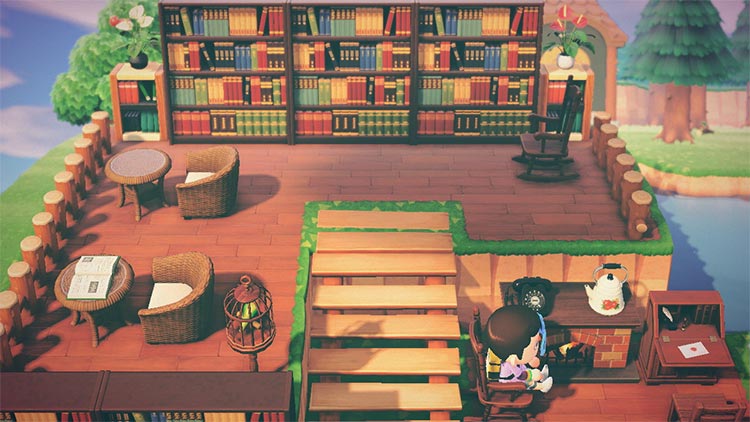 Bookworms, get together!
An outdoor library is a must-have on your island. It's also really simple to execute.
The greatest thing is that the bookshelves are already stocked with books, so all you have to do is choose the ideal reading position on your island and place them there.
They're also customisable, so you can choose the right colour for your library.
Don't forget to include a couple of tables, a lovely gate, and a rocking rocker to round off the look. So you may relax and read your favourite book while watching the sunset.
5. Grand Waterfall Entrance island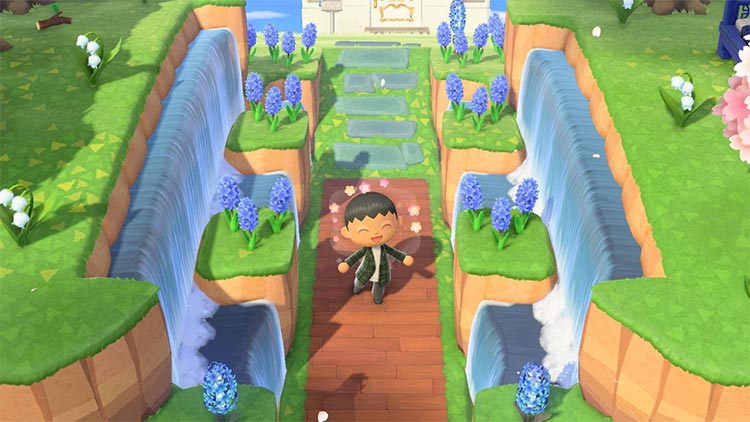 We've all visited other islands and been blown away by their spectacular entrances.
It's not as difficult as it appears. So creating a waterfall entryway looks fantastic, and it couldn't be simpler!
All you have to do is construct two cliffs with waterfalls cascading down the sides of each. Then, BOOM! Add some flowers and your favourite route going through the middle.
You've made a stunning entrance, just like that.
4. Outdoor Tiki Bar island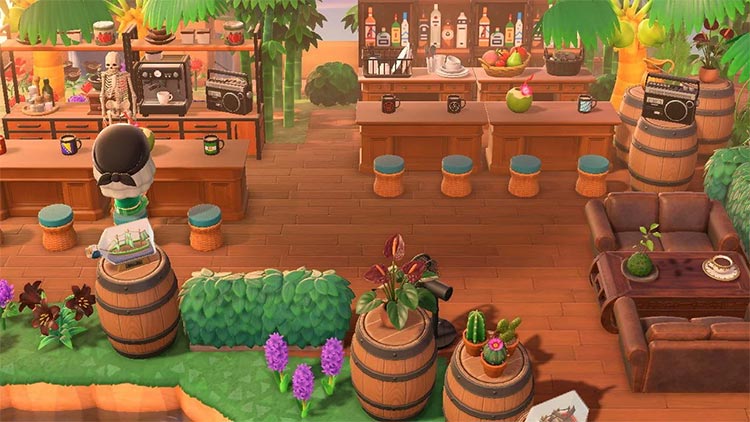 Where else would your people be able to unwind with a well-deserved drink?
This stunning tropical tiki bar was created with a few fireplaces flipped reverse.
You can also build other stalls on the property, or you can put other stalls on the ground to make it big and blasting
Throw in some basic panels with a bottle pattern and a sophisticated seating area, and you've got the greatest hangout location on the island.
It has previously been our job to keep our villages hydrated. So let's hope Brewster makes a quick return!
3. Ice Skating Rink island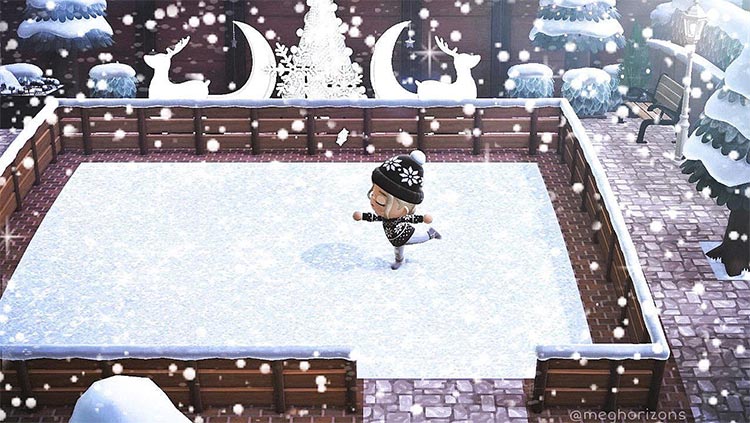 After December, Christmas may be done. However, the winter season is constantly active.
What great way to spend the winter days than ice skating on your own rink?
It's easy to construct and takes up only one custom design spot.
Simply select your favourite area of your island and put down your personalised design. You have complete freedom to create it as big or as little as you like.
Finish by erecting a fence around the area.
The nicest aspect is that it will never melt, and it will stay all year, so that is a good part about this.
2. Space Station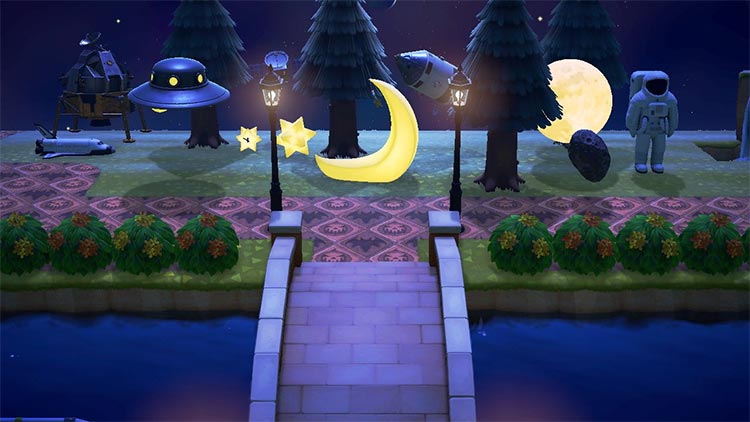 Add your own space station to send your island out of this planet.
It couldn't be simpler to establish this extraterrestrial domain.
Simply add some space things like the astronaut outfit, crescent moon chair, and flying saucer.
you can put the name of the island as space town.
You may also sprinkle some spare star bits over the region to give it a genuine out-of-this-world vibe.
Celeste can provide you with all of the DIY recipes for these goods. Just be sure to talk to her when she comes to your island to collect them all. However, keep in mind that she will only serve you one meal every day.
1.Classic Museum Garden
If you want to make people wow and also want to give them knowledge about things or history, then the museum is one of the places or things we should build and if it is a classic museum on the theme of the garden then it's way different also then another museum.
It will tell you about types of trees, flowers, hay bales and how cute a plant can be, we all even study about trees and flowers in our books
what is Acnh easy island ideas(Animal crossing new horizons)
it is an RPG kind of game.
Can we add another furniture style to this?
Yes, we can add
Is it hard to create an island?
No it is not that hard but you should know the controls.
This is it for Acnh easy island ideas(Animal crossing new horizons)
https://www.hollywoodreporter.com/business/digital/getty-museum-offers-downloadable-classics-animal-crossing-1290592/
https://thebestofotaku.com/scariest-horror-anime/