Are you a gamer? or Otaku, and if you are both, you will love the topic best anime games, where you will get to know most anime video games based on real anime series.
Many interesting anime games will make you play all day and love that particular anime more.
ATTACK ON TITAN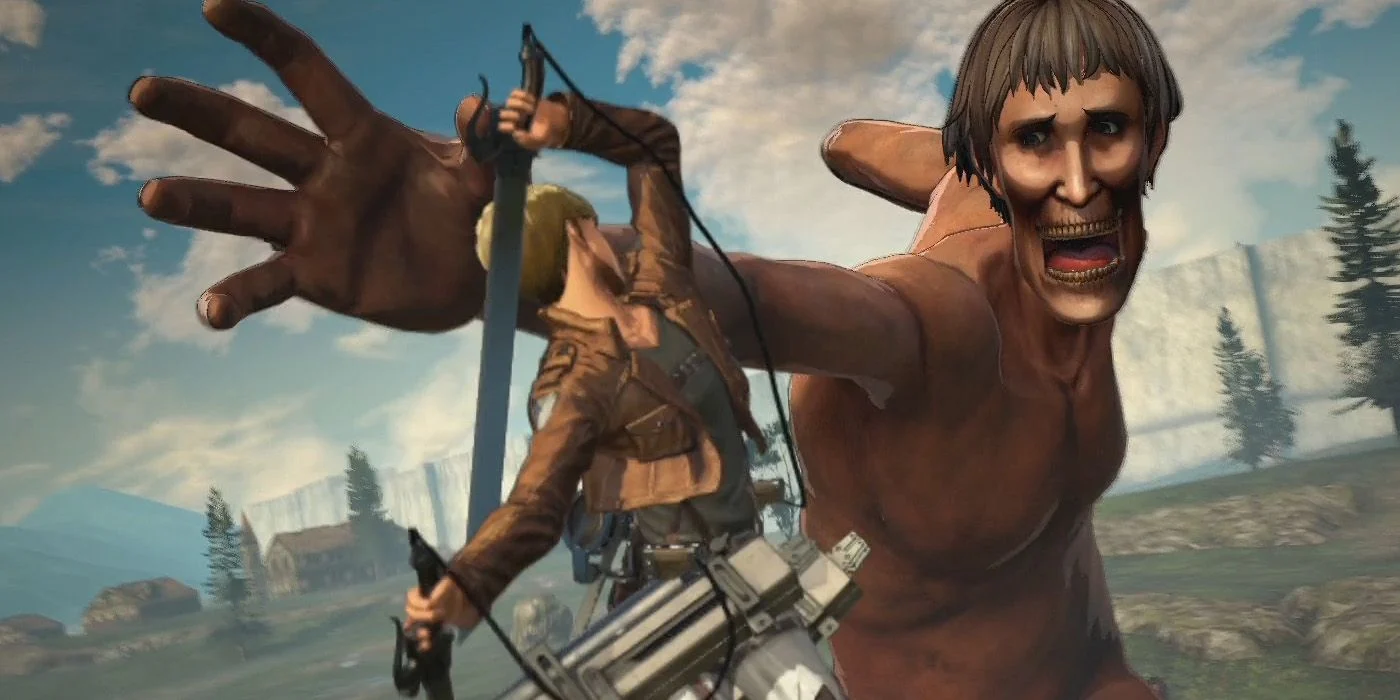 Let's start this article with Attack on Titan, which is recently anime fan-favorite anime and also one of the best anime games.
It does have an attack on titan 2, which is the next, or you can say season-final-based storyline game.
The game story mode is the same as the anime story.
Titan Attack 2 is the sequel to Titan Attack. The first Attack on Titan game is entertaining, and it lets you read the first 50 chapters of the manga, which is incentive enough to play it. The games are wonderful whether you've read the novels or watched the anime. But Attack on Titan 2 seems to be the one you must play.
Dragon Ball FighterZ
For a long time, fans of Goku and the other Z Fighters have been begging for a 2D fighting game to compete with other top-tier anime fighters. M ajArc System Works chose to respond to that request, and in the process, they were able to make that perfect game a reality.
Dragon Ball FighterZ has the right appearance, sound, and, most importantly, gameplay. In 3v3 encounters, you may create outrageous combinations by combining the strength of your teammates' various assist strikes and superpowers.
Kicking an adversary into a mountain to kill them brings to mind some of the anime's greatest spectacular battles. And the large roster of this fighter features a fantastic selection of fan-favorite variants of iconic characters.
Naruto Shippuden: Ultimate Ninja Storm 4 – Road to Boruto
The renowned Ultimate Jutsu and Awakenings fighting techniques were brought back in Ultimate Ninja 4. The option to swap between characters in the middle of combat added to the game's already high enjoyment level.
This is the great game you will see in the Naruto series.
The Naruto: Ultimate Ninja Trilogy takes you on a journey from Naruto's childhood through his participation in the Great Ninja War.
The narrative mode completed all of the anime's final chapters and made the game's major ninja battles grandiose and conceivable in boss fight form. Boruto's first adventure's welcome DLC inclusion is the cherry on top of Naruto's best entry into arena combat.
Ultimate Ninja Storm 4 is the final chapter of the Naruto Shippuden story. Features one of the most competitive versions of the Storm series and the Naruto Shippuden conclusion.
One Piece: Pirate Warriors 4.
Several animes have received an Omega Force Musou game treatment in recent years.
Mobile Suit Gundam is one of the games from this studio.
The Pirate Warriors games, set in the swashbuckling world of One Piece, have to be the finest of the group.
The series's latest game is undoubtedly the best; it features the most diversified range of playable characters, as well as a more hectic fight.
The addition of new characters and circumstances is exciting. And the expanded range of special moves available allows for even more combinations. One Piece: Pirate Warriors 4 is pure Attack button-mashing bliss for light and heavy attack buttons.
Fist of the North Star: Lost Paradise
If indeed, the combination of Fist of the North Star and SEGA's Yakuza franchise appeals to you. This open-world action RPG should be in your anime games collection. Fist of the North Star-Lost Paradise allows you to use Kenshiro's Hokuto Shinken martial arts expertise. While also immersing you in the conflicts that erupt in Eden's metropolis.
The anime's most prominent characters and villains make cameo appearances, resulting in some of the game's finest boss fights. Like the Yakuza games, Lost Paradise allows you to play some fantastic minigames.
Playing classic arcade games, running a hostess bar, hitting home runs in baseball, bartending, and so on are all enjoyable activities. But, of course, making adversaries' brains explode with Kenshiro's doom fists never gets old.
Dragon Ball Z: Budokai 3
The first Dragon Ball Z: Budokai games are mediocre at best, but it was evident that something great was on the way. Those first two games opened the way for the third, which took everything that the previous two games had polished and added it to a list of additional noteworthy features.
The cel-shaded visual style gave this game's source material even more life. Making the combat appear as if you were witnessing the actual performance. Beam fights, character transformations, the Fusion technique. And the Dragon Rush system is just a few innovations that truly enhanced the series' fighting in its third version.
The Dragon Universe mode gave Dragon Ball Z: Budokai 3 one of the best single-player modes ever seen in a fighting game. This is the third game of dbz
'Persona 4 Arena Ultimax'
Persona 4 Arena allowed Arc System Works to put the heroes and villains of Persona 4 against each other in a high-quality 2D combatant. That game was retooled and relaunched with an enhanced edition called Persona 4 Arena Ultimax, just like most fighters of its genre.
Eight new characters are into the equation, and charge-up attacks expand the fighting dynamics even further. And Shadow Types provided players with diverse character possibilities to learn.
Persona 4 Arena Ultimax keeps every one of the Persona franchise's aspects and adheres to them regularly. All while presenting them in a fantastic 2D fighting package.
'Dragon Ball Z: Budokai Tenkaichi 3'
The Budokai Tenkaichi competition took over once the Budokai sub-series was finished. The ground and air-based combat mechanics improved in the third installment in the series. And thank God, the fighting gameplay had reached its pinnacle, with a roster of over 150 playable characters.
In the game's ultra repayable team fight mode, players may mix and match famous faces and even incredibly obscure characters from Dragon Ball, Dragon Ball Z, and Dragon Ball GT.
Budokai Tenkaichi added even more combos and a new evasive move on the gameplay aspect. An upgraded form of dashing, a combo finishing Ki wave, and so on to each character's arsenal. Budokai Tenkaichi 3 is the world's best Dragon Ball Z game, without a doubt.
'BlazBlue: Central Fiction
Isn't Arc System Works all over this list? But there's a reason for that: the Japanese publisher/developer has unrivaled expertise in the anime Action game genre.
Even after stepping away from the Gear franchise to develop anything new in the shape of BlazBlue, Arc System Works maintained its high level of excellence.
In 2016, the final iteration of the BlazBlue games was released in the United States, and it was the greatest yet. The game's vast diversity of special techniques increased with new fight types. And the enlarged repertoire was the greatest form of the last thank you out of its committed dev team. The adventure of Ragna, the Bloodedge, ended here in the finest conceivable way.
'Yu-Gi-Oh! Legacy of the Duelist- Link Evolution
Yu-Gi-Oh! It's among the most fun card games ever invented. It swiftly became the newest anime fad to catch the attention of America as a whole after capturing the attention of a youthful generation of enthusiastic collectors, including professional players, in 2000.
Let's quick forward to 2019, whenever fans are still young enough to recall
Legacy of the Duelist: Link Evolution offers a who's who of the series' duelists. Allowing you to relive the series' final card confrontations. And the deck has a library of almost 10,000 cards.
Mixing & combine multiple card sets for offline/online matches will provide you with hours of entertainment. If you're looking for one of the best card games to play while on the go, your Nintendo Switch is the game for you.
'Astro Boy: Omega Factor.'
Do you have any idea what's wild? The Astro Boy game for the PlayStation 2 pales in contrast to the one available on a portable device. Treasure, the Game Boy Advance classic, was developed by the same company that brought us manga author/illustrator Osamu Tezuka's renowned young robotic hero.
Astro Boy: Omega Factor is noted for its high-octane Beat them up/shoot them up to the action, which is typical of Treasure titles. Defeating villains on the ground and shooting enemies out of the sky is a lot of fun throughout this portable treasure.
Under Night In-Birth Exe late cl-r
French Bread, the company behind cult masterpieces like Melty Blood and Dengeki Bunko Fighting Climax, is one of the world's most underappreciated fighting game production firms today.
Under Night In-Birth, the studio's anime fighter, has recently received a lot of praise. Its enduring appeal derives from its fast-paced combat and reliance on complex gaming mechanics.
If you haven't done so, you should look for the most recent version of this game. Its Cross-Cast Veil Off is a new mechanism introduced in this edition.
This provides gamers with even more fascinating combination options to experiment with. With the inclusion of Londrekia, a cold wizard, our anime fighter's roster has reached a new level of greatness.
Fairy Tail
When it came time to create a video game for Fiore's most illustrious guild, Koei Tecmo wanted to try something new. Rather than plunging Natsu and the group into a Musou-style brawl, they entrusted the game to RPG developer Gust Co. Ltd.
Gust created a surprisingly effective turn-based RPG based on the three most epic arcs inside the Fairy Tail tale because of its excellent work on the Atelier brand.
The final game in our list is jam-packed with useful material, including a good number of characters to add to your stable. A novel fighting system, appealing music, and many side activities.
Even as the game's long adventure draws close, there's still plenty to do and combat with the Fairy Tail guild. Fairy Tail will be remembered as one of the best RPGs of the year at the end of 2020.
Dragon Ball Xenoverse 2
Don't lie. As a kid watching Dragon Ball Z, you probably sketched your personal spikey-haired Saiyans and dreamed they could join the show's beam-struggling battles.
The original Xenoverse game allowed the same fans to build their characters, which was a fun experience. The sequel was important in realizing the full potential of the Xenoverse idea.
Conton City's primary hub environment is enormous. With a variety of gaming options that will eat up all of your time. It's a lot of fun upgrading your personalized Z Warrior and putting right the wrongs of changed Dragon Ball Z histories.
You can do many things in Xenoverse 2 — there's a lot of narrative mode material, character talents, outfits, side missions, and so much more.
The narrative mode is fantastic, and you will enjoy it, making it one of the greatest anime games.
Demon Slayer-Kimetsu no Yaiba – The Hinokami
Demon Slayer has been a huge success. It began as a manga in 2016 and acquired a new audience when an animated adaptation was released in 2019. You're probably familiar with both IPs, so you know what and how to anticipate.
That video game is a fighting game based on the program's first season. Players assume the character of Tanjiro Kamado as he joins the Demon Slayer Corps in this game.
Throughout this adventure, Tanjiro battles various demonic enemies intending to restore his recently demonic-turned sister to normalcy.
Dragon Ball Z: Kakarot
Let's keep things short and sweet for now. Dragon Ball Z: Sagas was a pitiful attempt to create an action, adventure, and fighting game based on the massively famous anime. As a result, CyberConnect2 had the opportunity to try their hand at making a game in the flop manner mentioned above, and they did a far better job.
This massive free-roaming action RPG retells all of the legendary anime series' important arcs and surprises long-time fans with never-before-seen backstories and non-canon events. All of which have been approved by the creator Akira Toriyama.
Dragon Ball Z: Kakarot is the game that came out of it. A solid action RPG allows players to relive the most dramatic bouts from each story arc, aside from slaying Goku's most ferocious foes and acting as his pals.
Players may go fishing, soar into the sky, and gather orbs (oddly addictive). And interact with characters from around the Dragon Ball universe, among other things.
Granblue Fantasy: Versus
Arc System Works appears capable of creating a fighting game out of everything. In 2020, it borrowed Granblue Fantasy's lush and bright setting and transformed its warriors into the newcomer action game.
Granblue Fantasy: Versus was well received by fans of the original mobile RPG, owing to its simple application of combos with special moves for every character.
That isn't to argue that pro-FGC gamers should avoid this game entirely. Instead, Granblue Fantasy: Versus, on the other hand, has a dynamic roster that allows for various combo routes and playstyles.
If you like Final Fantasy XIV or any other Final Fantasy game, you will also enjoy this one. It's because it's one of the greatest anime games out there.
Then there's the new RPG mode, which would be a fantastic addition that offers beaten-up fans something to do other than local/online fighting.
Granblue Fantasy: Versus is simple to look at and play, but its complexity may surprise you and keep you playing for much longer than anticipated.
Guilty Gear Strive
Guilty Gear Strive is the seventh mainstream installment in the Guilty Gear series, and Arc System Works developed it. This game is a continuation of the Gear Xrd series, so you'll notice a concentration on Sol Badguy. Still, the makers decided to redesign the game for this release more interestingly.
To attract more novices to the brand, there was a drive to include some new elements and adjust certain gameplay. One of Gear Strive's standout features is the ability to break through multiple stages, which isn't something you'll find in many other combat games.
In addition, if you hit certain combinations in certain areas of the map. You'll be sent into a sequence and thrown into a different level background.
Super Mecha Champions
Super Mecha Champions is a manga-style online Action game. Players fight each other in a mech in this game. In general, the game revolves around a league attempting to identify the finest mech fighter available.
You'll be able to fight one-on-one or in bouts with hundreds of other players. In the meanwhile, players would be able to personalize their mechs. This is a title worth checking out if you're searching for yet another competitive game. But, mainly because it's free-to-play, you won't have to worry about purchasing it.
Blaster Master Zero III
Since the 1980s, the Blaster Master series has been around. Blaster Master Zero III, on the other hand, was only released this year. The Zero series was first released in 2017. Assume you haven't yet purchased the most recent game collection.
The game series generally follows a man named Jason as he explores and travels around in a modified tank while fighting mutant monsters. The narrative of Jason comes to a close with this volume.
We'll finally get the narrative concussion for the protagonist. At the same time, he journeys about outer space for those of you who have been playing this IP for years. This time, though, Jason can travel through time and space.
Melty Blood: Type Lumina
This year saw the release of a new episode in the Melty Blood series, commonly referred to as a unique fighting game that debuted in 2002. This is a 2D fighting game, similar to previous games, in which fans will learn about events that occurred days before the visual novel Tsukihime -A piece of blue glass moon-.
The game is visually spectacular and has gameplay concepts you may be acquainted with from previous iterations. However, there are several new mechanics, some of which might benefit individuals who aren't as experienced with combat games.
Rapid Beat, for example, is indeed an auto combination that lets players link something together combo attack by just hitting the attack button.
Digimon Story Cyber Sleuth: Complete Edition
Nintendo/Game Freak's unchallenged monarch of creature-gathering RPGs has reigned supreme for years. Its main competitor is the Digimon franchise, which has a shaky track record for developing above-average video game adaptations.
Greatness occurred as fans' favorite digital creatures gave the full-fledged RPG treatment. Players are transported to a world full of digital secrets around cyberspace in Digimon Story Cyber Sleuth and its sequel Hacker's Memory.
Collecting, nurturing, and Digivolving an army of Digimon to battle with you is required to get to the bottom of the games' international web escapades. This collection's tale, characters, and incredibly addicting creature-collecting RPG elements are all lovable enough to keep your interest for hours.
Doki Doki Literature Club Plus!
You've likely played Doki Doki Literature Club. When it started coming out as a free-to-play game in early 2017, it went viral. It starts as a dating simulator if you haven't played the game yet.
While the game appears to be a bright and colorful adventure, the more terrifying, it becomes, the longer you play. It was full of twists and turned that immersed gamers in a psychological thriller.
Tales of Arise
Tales franchise has grown in popularity over the years, with the most recent chapter becoming the fastest-selling IP in history. This is an action RPG when you're not familiar with the series. Similarly, the majority of game installments are stand-alone, as is the case with Tales of Arise.
Players accompany a group of characters trying to overthrow a dictatorship in this game. There are two worlds in the game, each of which is technologically sophisticated and has enslaved the other.
The party of people you'll be following will embark on a trip to overthrow the order to liberate themselves.
Meanwhile, there is no turn-based fighting because this is an action RPG. So you have total control over your movement and fight with the other characters. It is not an open-world game, although some very extensive places exist to explore. It's more linear instead, and you'll know wherever you need to go.
Scarlet Nexus
Scarlet Nexus is an action role-playing game set in a world where mutant animals have taken over the earth. Humanity has formed a special task force known as the OSF (Other Suppression Force). Members are given a supernatural talent to employ against the mutants and melee combat training.
The players will use the hero, who is given the power of psychokinesis. However, to supply additional talents to players. You'll need to work with other members of your party. Each has unique powers that may be used to create new fight combinations.
This is also a linear game, then. So don't expect to explore big open worlds if you're looking for something different and haven't tried this game yet. So we can suggest it as a fantastic experience.
Re: ZERO – Starting Life in Another World: The Prophecy of the Throne
The Re: ZERO series has been going strong for quite some time. It has a long history of producing comics, books, and video games. Re: ZERO – Starting Life in Another World: The Prophecy of the Throne is the most recent installment, and it's a visual novel with some tactical gameplay.
If you're not a huge lover of visual novels, you might want to skip this one entirely. If you like the franchise, this episode explores Subaru's life in a fresh light.
Subaru receives word from a courier that the royal choosing has been postponed. Instead, they're curious about why Subaru and his buddies travel to a kingdom to figure out what's happening.
The gang discovers while in the kingdom that the prophesy stated that only five people will be eligible for the next monarch. Six people turned up, though, leaving an imposter in the mix.
Monster Hunter Stories 2: Wings of Ruin
This Monster Hunter franchise has a long history, dating back to the PlayStation 2. Overall, the game's gameplay stayed the same, with players fighting enormous creatures for riches.
Monster Hunter Stories, on the other hand, altered the gameplay fundamentals. This game is mostly focused on turn-based fighting with more comical aesthetics. We have a new installment this year with Monster Hunter Stories 2: Wings of Ruin.
Thanks to cross-play and co-op compatibility, you may also explore the beautiful world of Teyvat with up to three other people, unlike Breath of the Wild.
The graphic aesthetic and turn-based combat are carried over from the previous game. Inside the game, players have a new mission: to figure out which one happened to all of the Rathalos who have gone missing all around the world. Meanwhile, players receive their Rathalos egg, which they must hatch on their voyage.
Behind the Frame: The Finest Scenery
Behind The Frame: The Finest Scenery is an interactive game about an artist working on an exhibition piece. This is a story-driven and relaxing game. Players will interact with the surroundings and see the emotional journey of this ambitious artist.
Some players may find this a sluggish game, especially if they aren't fans of point-and-click adventure games. On the other hand, the aesthetics are magnificent, and it's an emotional story that shouldn't take long for players to complete.
Persona 5 Strikers
When Persona 5 was initially published, it was a huge hit, and this year we got a new spin-off to continue the tale. Persona 5 Strikers is a hack-and-slash game, while Persona 5 was a turn-based fighting game.
Persona fusion, dating simulator features, and numerous endings are all included, as they were in earlier games in the series.
young man, white witch, astral chain, mega man, network n, square Enix, custom character, characters mid-battle, anime version, best anime games, anime games, dark souls, persona franchise, Bandai Namco, a love letter
Persona 5 Strikers will transport players back to the Phantom Thieves if they have already played Persona 5 or seen the anime version. The squad will then have to clear out the swarms of attackers freely roaming the land to combat the corruption that has engulfed Japan.
The major issue that some fans may have had with this game is that it is accessible on several systems that do not support Persona 5.
Opus: Echo of Starsong
Finally, we wanted to recommend Opus: Echo of Starsong as a bonus game. Asteroids emitting sound waves are the focus of this puzzle adventure game. Two individuals join together to solve the mystery of these waves and the power they may possess.
His people have exiled Jun, and he sets out to claim an asteroid to reclaim his clan's dignity. However, Jun saves a woman named Eda, a witch who can detect sound waves from asteroids, along the way. They might be able to unravel the enigma of the sound waves if they work together.
No More Heroes III
This year, fans of the No More Heroes video game franchise received the final episode in the series. No More Heroes III is the third installment in the series, and it follows Travis Touchdown on his final adventure.
Travis is compelled to defend Santa Destroy as the overlord prince FU unleashes a fresh alien invasion. This is an action-packed hack and a slash game in which you'll face off against the alien invasion's henchmen and some dramatic boss confrontations.
However, the game is currently only accessible on the Nintendo Switch, so if you want to purchase a copy, you'll need to be using that device. If you haven't previously done so, you'll want to go back and play the previous episodes since you'll be introduced to various characters from previous games.
TASOMACHI: Behind the Twilight
Tasomachi: Behind the Twilight is an incredibly beautiful game. The protagonist of this game is a little girl who travels around like that in her airship. We arrive at a city traveling across the world when the airship suddenly breaks down.
You're stuck in the city and have no choice but to look around for components to fix your ship. However, it is here that you realize the city is devoid of inhabitants. Instead, the city is overrun by cat species.
The game's gameplay revolves around platforming while you explore the area and look for your missing pieces. The game is visually amazing, and Tasomachi: Behind The Twilight has received much positive feedback thus far.
Lost Ruins
Lost Ruins is a 2D side-scrolling adventure game in which players take on the character of a young girl. Players begin their quest to figure out what's going on after waking up in a dungeon with no memory of what she's doing or how she got there.
However, the small child is soon confronted by a slew of terrifying monsters. Fortunately, the tiny child was saved by our protagonist, a magician named Beatrice, who sets out to uncover her memories.
In the meantime, you'll hack and slash the enemies who await your arrival with melee weapons. There's also some inventory management here, as you'll discover various items to help you in certain scenarios.
Nier Reincarnation
The Nier brand has a large fan following, but you may have missed a game that has been released for mobile devices. Nier Reincarnation is a free-to-play mobile game in which players take on the character of a young girl.
When we enter a tower, we discover that it is inhabited by a creature who desires to become human. As little more than a result, the beast will hunt down players to devour their dreams. Its gameplay is similar to what you'd expect from a Nier game.
It's a fast-paced, fluid game with a lot of hack and slash action. Meanwhile, you'll have had some party members assist you in a fight. Nier Reincarnation is a free video game that you can download on iOS and Android.
Lost Judgment
Judgment was a smash hit spin-off for the Yakuza franchise. Thus a new sequel wasn't unexpected. If you liked the original game, you might also love this new installment.
As little more than a private detective investigating a crime suspected of murder and sexual harassment, Lost Judgment is hurling gamers once again.
There are several locations to seek clues and opportunities for players to engage with individuals and explore the fact that it is a Yakuza spin-off. There will be a lot of over-the-top melee action.
You may play this game without having played Judgment. However, playing Judgment first may be more beneficial to understand the characters better.
Samurai Warriors 5
Samurai Warriors is sometimes compared to the enormously successful Dynasty Warriors franchise. As a result, the game's gameplay is mostly oriented toward hack and slash. Instead, you'll dash throughout the battlefield, slaying waves of foes.
The more foes you defeat on the battlefield, the closer you'll face the general. A few installments have been published on the market. Samurai Warriors 5, on the other hand, is the most recent.
Don't be fooled by the title; this game was created as a brand reinvention. That implies we'll get a fresh plot, new images, and characters.
It is, however, still such a hack and slash game in the vein of Dynasty Warriors. The leading up to the Honno-Ji disaster is the focus of this game's narrative.
Bravely Default 2
Bravely Default was a popular RPG for the Nintendo 3DS, and it was followed up by Bravely Second: End Layer. However, Bravely Default 2 is now available. So don't be fooled by the name.
There is no continuation here; a new plot and a cast of people are introduced. This is a traditional turn-based RPG in which you control a group of characters throughout the story. Players follow a collection of characters in this game, including an exiled princess from her realm.
When our party of heroes discovers the kingdom has been plundered of its crystals, they set out to collect them and maybe restore the princess to the throne.
The Great Ace Attorney Chronicles
The Ace Attorney Series is well-liked. Players assumed the role of an attorney in the game series, which required them to win various court cases. A Great Ace Attorney Chronicles was released earlier this year.
This is a compilation that includes both the Adventures and Resolve episodes. You play as Ryunosuke Naruhodo, Phoenix Wright's grandfather, in this game, which takes place in the nineteenth century. Essentially, the gameplay is similar.
You're still an attorney that's looking to uncover different clues and participate in courtroom battles. You'll cross-examine witnesses, present your evidence and uncover the truth of what happened in the various court cases.
Genshin Impact
We're in the top ten best anime games, and Genshin Impact is a great way to start this top half. This is the final game in the Legend of Zelda: Breath of the Wild and Anime series.
It's a Gacha-style online open-world action role-playing game (Gacha is similar to loot boxes, but instead, you get characters and weapons of different rarities and effects). This Anime Game is accessible for PC, PS4, and mobile phones, which is fantastic!
Genshin Impact is a free game to play. Final Fantasy XIV is a video game developed by Square Enix. Look no farther than Final Fantasy XIV if you want to hurry around a wonderfully designed open world as a doe-eyed anime protagonist yearning for adventure astride a Chocobo, one of the most polished and continually growing MMOs of all time.
On the Epic Games Store, Playstation Store, Play Store, Play Store, Play Store, and Apple Play Store, Genshin Impact is available for free.
Here are a few helpful blogs to start with if you're new to Genshin Impact and want to learn some of the greatest tips and tactics.
Naruto Shippuden: Ultimate Ninja Storm 3 Full Burst
Naruto Shippuden Ultimate Ninja Storm 4 is the fourth installment of the Naruto Shippuden series, which I previously stated in this article. I adore this ninja storm series.
It is one of the greatest anime games, with arena fighting and true-to-life anime character abilities.
Its Naruto Ultimate Ninja Storm Trilogy, which comprises Ultimate Ninja, Ultimate Ninja 2, and Ultimate Ninja 3 Full Burst, is one of the most valuable anime games of pure content volume.
Players zip about levels, call in help or tag in other characters, toss ninja tools at opponents, and generally interact with a large range of characters in these 3D combat games.
This is one of the best fighting games you will love, and the first game of this was great.
Naruto: Ultimate Ninja 4 is the fourth installment of the Naruto franchise. The Naruto Ultimate Ninja series is one of the most significant arena fighters out there, and Ninja Storm 4 combines the whole game series and Naruto's plot into one game.
Pokemon Nintendo Switch or Nintendo series
Many of you may already play this pokemon game which is one of the greatest and one of the best classic anime games based on anime series, and I love how it was made even back a long time.
I played this anime game way too much and almost played every version of this game, and if you have not played it yet, then I will assure you that if you ever loved the pokemon series, you are going to love this anime game.
There is so many version of this game, and in total, till now, there are 122 Pokemon games made, which started in 1996 when pokemon green and pokemon red was introduced on Gameboy Nintendo 3DS.
The latest one is pokemon black and white 2, which you can play on PC.
Ni No Kuni II: Revenant Kingdom
The Revenant Kingdom follows a new band of adventurers as they make a daring castle escape and embark on a colorful journey across the magical kingdom of Ding Dong Dell.
This is one of the most underrated anime games released in recent years, but still, the anime fans and the gamers love its gameplay.
Hope you found which anime game you want to play
TOP 3 ANIME GAMES?
1-NARUTO STORM SERIES
2-POKEMON SERIES
3-Genshin Impact