23 Black female anime characters in 2023 – 5th is crazy!
We all love everything about 23 Black female anime Characters, and why not? Because they all are so awesome and beautiful.
We all know that black characters give you more confidence to watch that anime because we all know dark skin black character is one to watch.
1-Carole – Carole and Tuesday
Tuesday Carole's life has not been easy as she faced many difficulties, but if I tell you about that, it will give you spoilers, so let's just talk about her.
She has extraordinary musical abilities, and she is a solid black female anime character. That's why she can learn music, and even her word ethics are on the point and working her way to reach or make her dream come true.
2-Manbagi Rumiko- Komi can't communicate
It is rare to see a Black woman and a black person in a Japanese country and rarer if you see a young teenage girl.
If you love watching anime that have rom-com, then Komi can't communicate the one you should watch.
In Komi, she is a supporting character who can't communicate, and she comes from a wealthy noble family.
Manbagi is the only black female anime character in the school, and I think her family is connected to afro Brazilian or afro Latina family tree.
Spoiler alert!! Manbagi is sweet and kind and always ready to help. Sorry for the spoiler, but trust me, you will love her so much, and there is more to this.
So hope you will read Komi can't communicate manga because she is one of the best anime characters I really like the way she is, the haircut and the style.
3-Sister Krone – The Promised Neverland
The most heinous anime characters are those that prey on the vulnerable to attain their objectives. Sister Krone is exactly the same way. In trying to persuade people, she seems to be nice and warm.
Krone has a strong physique and an intimidating demeanour. She intended to seize control of the orphanage by arranging Isabella's death. Sister Krone, on the other hand, succumbs to her injuries.
4-Atsuko Jackson – Michiko to Hatchin
Michiko to hatchin is one of the anime with few black female characters, and Atsuko Jackson is one of them, and she is not just a character in the anime.
Atsuko is a police officer who has afro hair. Still, it was not easy for her to become a police officer because she was an orphanage who had his lead on to catch Milandro, who is trying to get away from her, but Atsuko is working her way out to catch her and put her crime to end.
The relationship between these anime characters is a little perplexing.
5-Choi Mochimazzi – Tamako Market
She has some very different hairstyles, which has trinket around her hair and the length of the hair is a medium like a bob cut, we all say.
Choi chooses to walk barefoot with orthodox-style dresses because she loves her culture and doesn't want to change because the world is changing.
Her most striking trait is her stunning magenta eyes. Those eyes have the gleam of pearls in the moonlight.
She has a lovely demeanour and is constantly eager to pay off obligations. She's a nice person. However, she can be secretive when she's worried about someone.
6-Mira Naigus – Soul Eater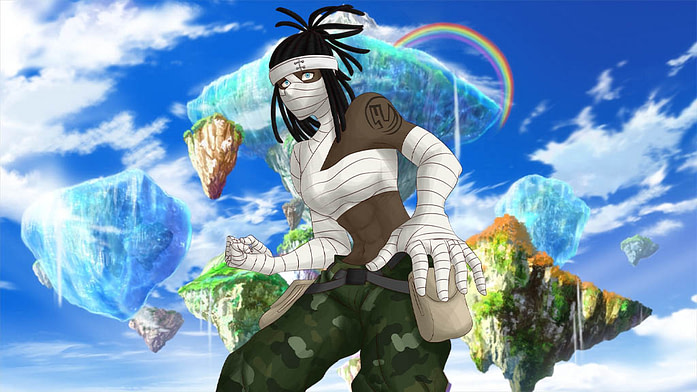 She is one of the furious female characters In the Soul Eater anime series. She is a teacher that is really enthusiastic about what she does. Mira has a stunning body, blue eyes, and dreadlocks.
Despite her lovely beauty and caring attitude toward her children, she is cynical and chilly. Because of her lofty position, Mira must be skilled and a great leader.
7-Miyuki Ayukawa – Basquash
Miyuki Ayukawa is an engineer girl who is very skilful and also beautiful. Dan, her childhood friend, was a black female who secretly admired her.
You can't estimate her personality since she has a variety of personalities.
She is the primary character of the anime and one of the most talented black anime characters in the whole anime community.
She has one of the most beautiful eyes on this list because the violet colour eyes are really reflective and give a very vibrant look because she has black skin. The difference in skin tones between violet and black is startling. Miyuki is stunning, and she's also well-endowed.
She is a black engineer anime lady who does an excellent job of repairing foot robots for pilots and other robotic components. Her expertise is impressive to watch because she is just a young adolescent girl who is not a pilot but is still in the pilot squad.
8-Casca – Berserk
Casca is a fearsome woman who can lead mercenaries and wield a blade with the dexterity of a man. If anyone wants who want to be a great leader, they have to be cold-hearted because to take a decision, you have to think through your brain, and that's what Casca is a great leader. But still, some of her comrades ask her questions about her leadership and judgement, which is insulting, to be honest.
Underneath that plated exterior, though, is a woman who aspires to be both a warrior and a lady. Casca has her hair in a pixie cut. Her face is almost angelic, but melancholy brows mar it.
9-Coffee – Cowboy Bebop
She is not just an ordinary anime girl, and she is one of the coolest and most awesome bounty hunters in the anime. She has a toned figure and is tall and thin. Coffee has afro hair and brown eyes, just like everyone else.
The anime is on Netflix anime series, and trust me, and you will love her and many characters in Cowboy Bebop.
She favours the grenade launcher when it comes to bounty hunting. Coffee maintains her femininity and grace despite her dangerous work. She's one of several Afro-haired anime characters.
10-S.A.M. – Cannon Busters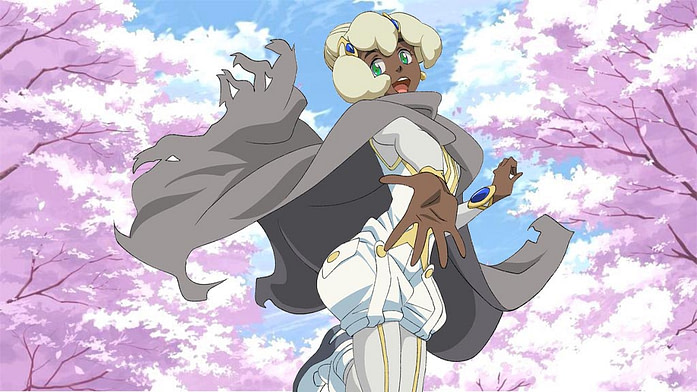 Sam is an android in the anime Cannon Busters who is extraordinarily intelligent for a robot. Her pale blond hair is almost white in colour, and she has blue eyes that may turn scarlet. S.A.M. is clothed in a gold-accented white leotard.
As a dark-skinned robot, Sam has the power to transform into a lethal weapon. Her demeanour is both compassionate and persistent. Given the circumstances, Sam would devote her life to Prince Kelby and others she loves.
11-Yoruichi Shihoin – Bleach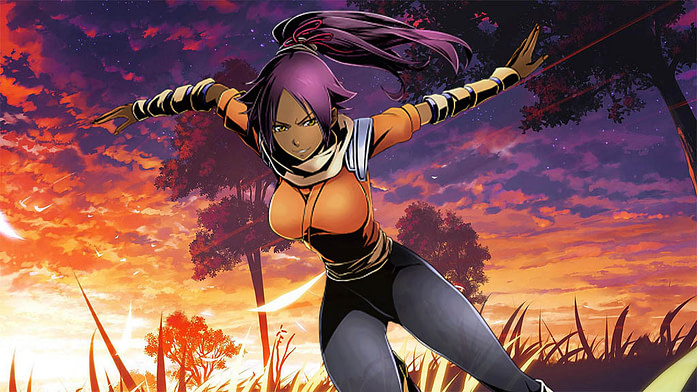 In her clan, which is the Shihoin clan, one of the oldest clans and she is the princess.
Despite her nobility, she is not a snob and prefers to be addressed by her given name. Instead, she's one of those multifaceted anime heroines with dark skin.
She has the ability to transform into a cat at any moment and to return to human form at any time.
When confronted with opponents, she has a laid-back demeanour but is sharp and formidable.
Her violet hair is one of her marks of her because it's so different, and people know she was in slash royal. She's little, short in size, and nimble in battle.
12-Ymir – Attack On Titan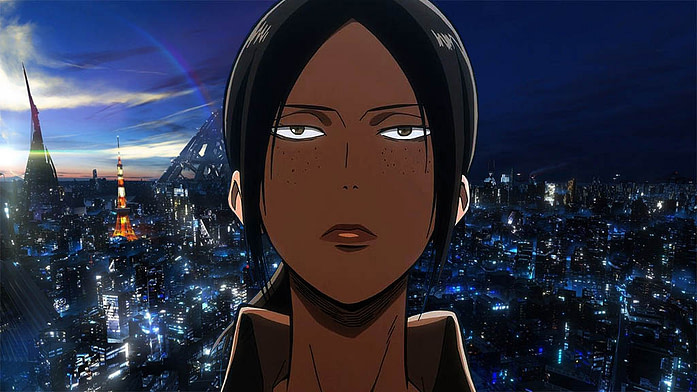 Ymir, as we know, if you are watching Attack on titans, you may know that she was the first titan to be born, and she was a jaw titan and one of the most intelligent titans till now and very clear.
She won't have a huge titan form, but her titan form is the purest titan form, and that's why she is the first one to get the power.
She has a dark complexion and is small in comparison to other Titans' forms, but she has golden eyes and brown hair in human form.
Before joining the Scout group, she was regarded as a deity. Many people thought Ymir was not a good person and always talked about her like a dark person or the person who doesn't want peace, but that's not true because so many people just use her as a thing.
When she got betrayed, she thought, why should she hold on to people who will just use her? So after that, she set herself free from people's demands and lived for herself. Christa/Historia has always been close to Ymir, and they were the only reason to be alive, so she only loved her.
13-Michiko Milandro – Michiko to Hatchin
She is not a very calm person because she has a short temper issue, and she can go wild on you if you piss her off. Trust me, and she is skilful even to harm you or kill you.
She enjoys flaunting her physique since she is tall, attractive, and breathtaking.
Despite her fiery temper and confrontational nature, the main character is empathetic and loving. Although she likes showcasing her toughness, she provides the idea of being tough in order to conceal who she actually is on the inside.
14-Heles – Dragon Ball Z (God Of Destruction)
She is one of the gods who is called the god of destruction and can kill you anytime she wants to with her power. She dressed in Egyptian garb, suggesting a mix between Cleopatra and Nefertiti.
Despite her status as the Goddess of Destruction, Heles despises the council of elders' heartless annihilation of eight planets. She is relatively gentle in comparison to other gods.
15-Canary Hunter – Hunter X Hunter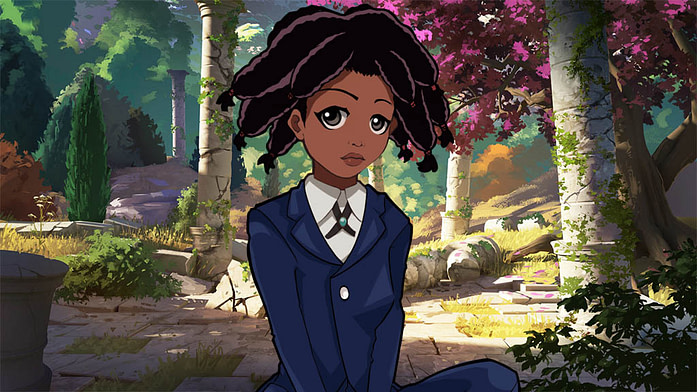 Canary is one of the female anime characters who are in supporting character and is the strong black female character of hunter x hunter.
She is one of the zoldyck family's servants and a very skilful butler of the family. She even has so many skills even her age is like another teenage girl, She has afro hair with braided style and wearing butler outfit, and even in that outfit, she looks stunning.
Canary is disguised as a Zoldyck butler and takes her job seriously. She may be a teenager, but As I told you, she just looks kind and small, but she is one of the top class bodyguards. If she loves someone, she can do anything for them even if he has to die, and she will die. She is, nonetheless, willing to break certain laws if necessary.
16-April – Darker Than Black
Her hair is bright blue, and her eyes are a beautiful, sad yellow. April's go-to ensemble consists of knee-high boots and a coat with fur inner lining at the arms and neck.
The only bad thing about her is that she is not good with alcohol, but still, she drinks too much. Her background is unknown, but she is a talented agent.
17-Hilda – Eureka seven
When we saw Hilda and his other pilot guy, we thought they both were married, but still, there is no proof that they both are married, but still, the relations she has with the guy are more like husband-wife.
She is maybe the only black anime female character who is a pilot, but she is also kind and caring and will take care of anyone as her mother does, and so she did to Eurek's children.
Hilda is not just a pilot. She also owns a shop for mechanical parts, which help her get more money than just a pilot job, and she is also good with fixing things.
18-Hild – oH My Goddess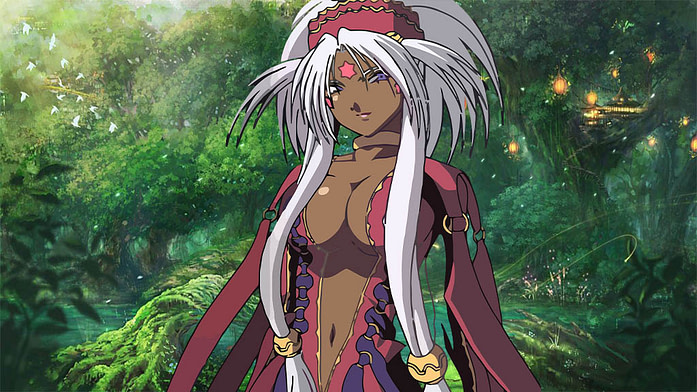 She is one of the sexiest black female anime characters and also one of the main characters in the Oh my goddess anime series,
Hild is a Demon whose might dwarfs the combined talents of the three Goddesses. Urd is the name of Urd's mother.
Her eyes are violet, and she has white hair. Hild's wrists, fingers, ankles, and fingertips are all covered in gold bands. These bands hamper her powers.
Overall, oh my goddess is about a black girl and trust me, she wears one of the most exposing dresses.
19-Mila Rose – Bleach
You like girls with huge bo* or sexy looks, and then you will love Mila because she is one of the sexy black female anime characters and has black hair, which is not straight, more like wavy, and her green eyes are of her contrast with her dark skin.
Mila is not someone who can cheer you up because she is not a cheerful person, but still, she is very calm and very intelligent and mature.
She may look very hard on people, but she cares for her comrades and her soldiers. She doesn't want others to think she is emotional because that is what makes her leadership look weak.
20-Tiona Hiryute- Danmachi
Tiona is a sister of Tione, and they both are sisters.
She has brown colour eyes, and her hair is short with two sides tied together with a band.
Tiona is a skilful warrior, and her weapon is double side long blade kind of weapon which is perfectly balanced and have a handle in the middle.
She is a black female anime character and trusts me, and she's tough to beat by anyone.
21-Tione Hiryute- Danmachi
Tione is the name of this anime character who is a first-rate explorer. Tione has green eyes and long hair,
Her weapon is kind of kulfi or a kind of medium-length curved blade, which made her use it swiftly because it's not as big as her sister Tiona's double sword.
She also wears mythic wear of clothes and walks and goes around barefoot, but even Tiona is her twin, she has the opposite style and nature.
22-Umiko Ahagon – New Game
She is one of the most intelligent black female anime characters in the series.
Umiko Ahagon is a developer who is hard on her employees.
Despite her unpleasant appearance, this anime character is friendly and compassionate. When this dark-skinned girl is at ease with people, she likes to chat about her hobbies a lot.
This is it for the list. I hope you learn more about black women and what kind of person a black female anime character can be and like.
23-Karui – Naruto Shippuden
Karui is a passionate and loud individual. Her personality might sometimes be impetuous, causing her emotions to take precedence over her intellect.
The hair on this ebony female is long and spiky red. Her eyes are amber in colour, resembling a brilliant summer sunset. She wears gold earrings all the time and holds a long sword. I guess she's an Afro Samurai.
24-Chocho Akimichi– Boruto next Generation
She is one of the youngest black female anime characters, and if you watched Naruto Shippuden, you might know who is the mother of Chocho.
She is mighty and can kick butt if she goes angry.
We all know choji, a fat, always eating guy, and that is what chocho also does. She always keeps on eating potato chips and inherits the Akimichi clan power to expand her body part or have butterfly wings.
She got her black features from her mom, but she has a gentle nature, not like her mom, who is no other than kauri.
This is it for the list, and thanks to you so much for reading this list and article hope you love black female anime characters.
Who are the top Black anime female characters?
1-Heles
2-Mila rose
3-coffee
In Which season will Manbagi will appear in Komi can't communicate?
In 2nd season
https://www.ranker.com/search?q=black+anime+girl
https://thebestofotaku.com/best-stands-jojos-bizarre-adventure/