Best ddlc mods
Doki Doki literature club mods are one of the best mods you can get for the game to make the game new this is the list for best DDLC Mods
This list has every kind of mods related to Doki literature club mods, so just read and enjoy.
Monika After Story
This game is about four girls who are in the group book club in the after-school section. One by one, you will meet each girl at a time as the game, or you can say the story progresses, and when you start knowing each one of them, you will fall in love with them, and that's why this is so famous Mod.
The story's outcome is largely influenced by which of the four you like this, and you can imagine how diverse perspectives will be based on the game's player.
If you fall in love with Monika, Monika's After Story is a fantastic mod to attempt if you want to continue playing after the game ends.
This is a great Mod because, in this, you can go out with Monika on an actual date and spend time with her talking about many things that are inclusive inside the game and if you feel lonely.
you can keep talking to her because that's what this Mod is about talking to her for hours and playing games and listening to music, which is the real deal.
Monika Before Story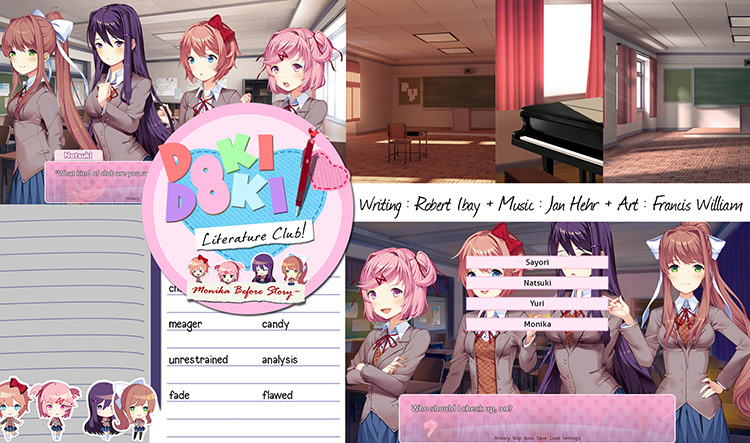 While you have a lot of leeway in choosing which of the four girls you want to date, one of the most common complaints from fans was that the standard game didn't include a Monika route.
If you download and install this Mod, which is Monika Before Story, it gives you many options to play or go into the events. But as for the Monika after story Mod, which lets you spend time with the character to develop a relationship and help feel relaxed.
The version depicts you as the club's president, with Monika taking the role of Sayori as your childhood closest friend.
The best DDLC MODS
The patch introduces a slew of new options for you to consider that will impact the course of your tale, ultimately leading to one of ten distinct endings.
The Yuri Parable
You are one of Yuri's lovers and want to know where Yuri's future is held. You want Yuri to have a best friend. For me, when I'm playing ddlc, I will hope everyone has happy endings.
She is one of the most underrated characters in the story and lots sweeter than other characters.
Many people love Monika too much and think she is the only one in the game. But I'm sure many of you like someone else, and for me, Yuri is one of the favourites but do let me know who is your favourite in the comment section.
ThisModd is not so famous because it's more or you can say just about Yuri's life and her story only and which many gamers or weebs don't like, but still, you will find it great if you like Yuri.
The Stanley Parable, another surprise hit from 2013, is also the inspiration for the Mod.
Sayori Date
TheModd depicts Sayori asking you out on a date in a significantly more in-depth look at her life. With the Mod focused on your connection with Sayori, you can't help but wonder if you'll be able to make her happy finally.
Because you're presumably familiar with Doki Doki's plot by now, the increased attention on Sayori could also indicate a deeper connection to mental health.
As a result, I don't think things will go as smoothly as you may expect.
26. Sayori Says No To Suicide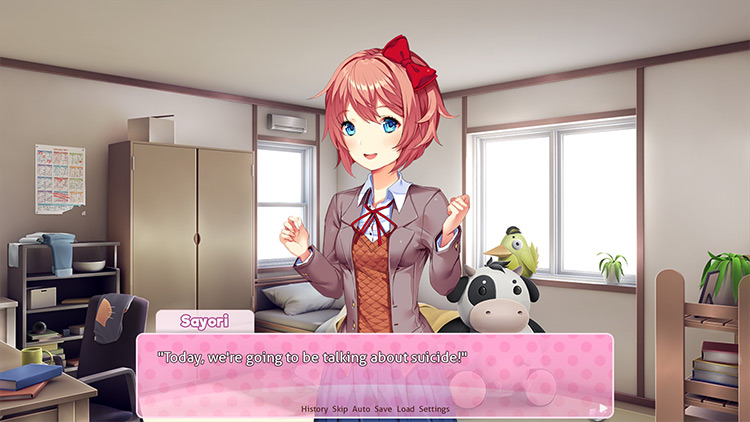 This following Sayori mod is an obvious pick if you're seeking a more playful Sayori mod.
You can tell by the name that it doesn't include Sayori's suicide, allowing for a far more enjoyable plot with no nightmares.
ThisModd was one of the favourites in 2019 because we can see Sayori's depression and how she is going through mental health issues, so the Mod focuses on saving her.
25. After Sayori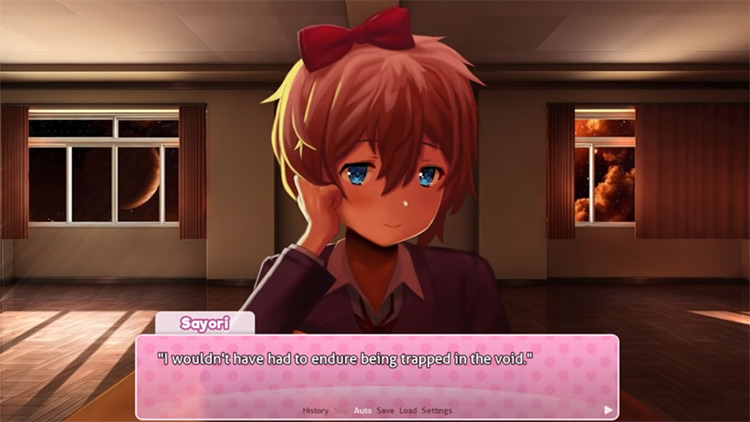 If you prefer a darker Sayori ending, EVM02's After Sayori mod could be worth a look.
Though it has a similar name, it is not the same as the Monika After Tale, in which you can spend as much time with Monika as you like after the storey concludes.
Even while things are still going badly for Sayori, you can go through what might happen once she's gone.
24. Doki Doki Easter Hunter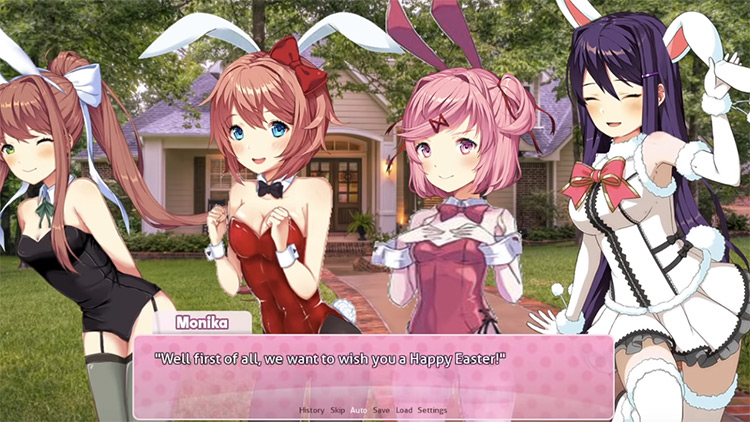 You like the easter idea or even about hunting down Easter eggs, then this Doki Doki Mod is best for you because, in this, you can be with more than one Doki Doki girl.
Although it isn't as long or as in-depth as the other mods here, more Doki Doki is always a good thing.
TheModd also adds several plot twists, and the modder cautions that it is not suitable for anyone who finds certain aspects of the game unpleasant.
23. MC's Revenge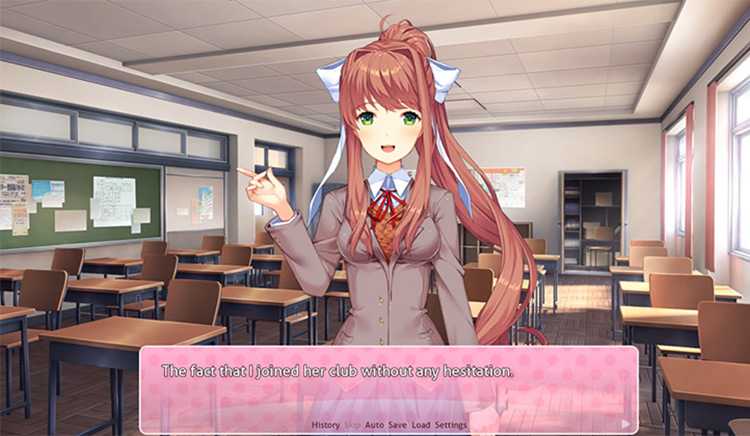 Monika's self-awareness is one of the primary characteristics that distinguish DDLC from other stories.
What could be more thrilling than possessing the same level of sentience as Monika?
This patch allows you to do just that, giving you many ways to influence how each character's storey unfolds.
TheModd contains a total of five endings, all of which are dependent on player choices during the game.
22. The Normal VN
Doki Doki's twists and turns are what distinguishes it from other games.
At first sight, it appeared to be a conventional anime dating simulator, but it rapidly transformed into an emotional horror-tinged drama, distinguishing it from other visual novel games.
While that's fine and dandy, have you ever wondered what DDLC would be like if it went down a more "regular" path?
The Normal VN does precisely that, removing most of the unpleasant and less "normal" elements of the plot to provide you with a standard dating sim experience.
21. Purist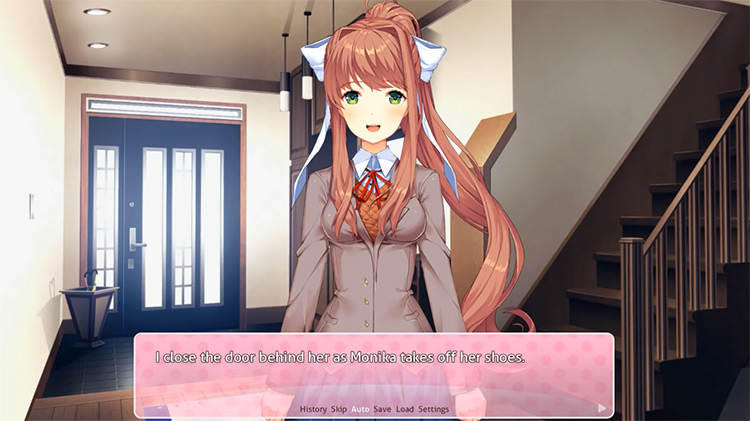 Purist is another wonderful mod to explore if you're seeking a typical dating simulation experience within Doki Doki.
It provides considerably more "regular" paths for each girl, allowing you to date each of them and ultimately choose who will become your permanent companion.
Purist is a fantastic addition to the game because it includes over 11 hours of playable material as well as whole new artwork and music.
20. The Festival
The festival is most closely associated with Sayori's death among DDLC fans.
ThisModd seeks to change that by starting the plot from the beginning of Act 1 and ending it at the end of Act 1.
What's amazing about this Mod is that it allows you to investigate circumstances you wouldn't have had access to otherwise.
TheModd adds a new week at the book club, new routes for each female, and two new endings to choose from.
Behind Closed Doors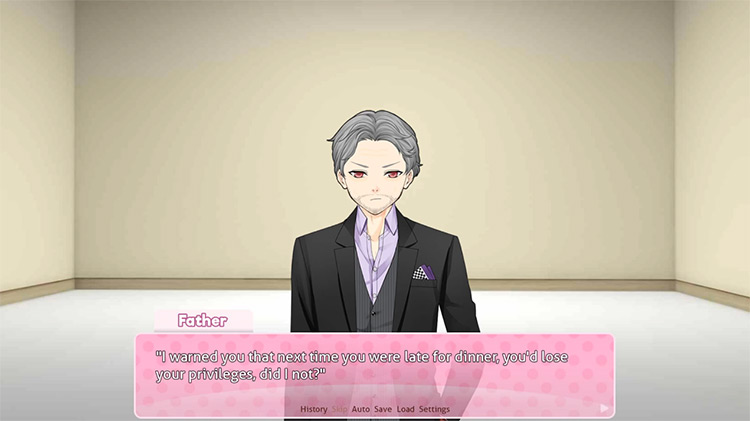 We've seen a few mods in earlier episodes that focus on Sayori, Yuri, and even Monika, but we haven't really given Natsuki any love until now.
Behind Closed Doors also goes much deeper into Natsuki's life, exposing some of the darker aspects of her life that she had sought to keep hidden.
It's a fun plotline to play through, especially because there aren't many alternatives for a plot that focuses on Natsuki rather than the other girls.
18. Doki Doki Summertime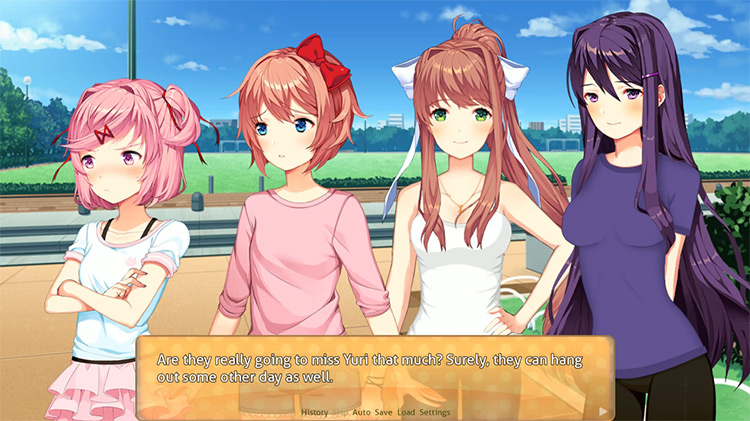 Doki Doki may have created a name for itself due to some of its more ominous themes. But who's to say we can't enjoy ourselves while playing the game?
When it comes to comedy modifications for DDLC, there are a lot of possibilities, and while they're all designed to be humorous, you might be shocked at how fantastic some of them are.
Sayori invites you to spend the day in the pool with her during the Mod, which takes place in the summer.
Doki Doki Summertime features fresh artwork and soundtrack and 17 distinct endings.
17. Coldest Summer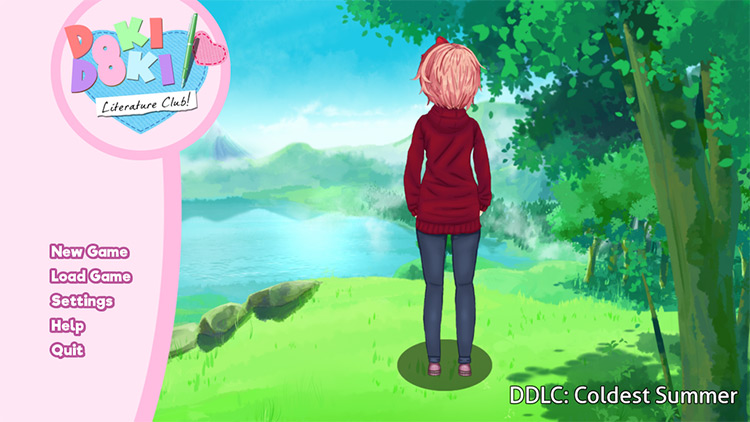 You like pool parties, and you love when your friends are at that party. I like it, so you are also going to like this Mod also where the main characters come to the pool party to have fun and enjoy the time like they used to in childhood summertime.
Sayori's parents have perished, and MC's family adopts her in the alternate universe depicted in Coldest Summer.
She chooses to confide in MC as her sadness develops. You can save sayori, and because of that, it is a must-play great Mod.
We all wanted Sayori to live, and this Mod can save her, and this is the biggest chance for you to save her by making her happy with this party.
16. Doki Doki Relapse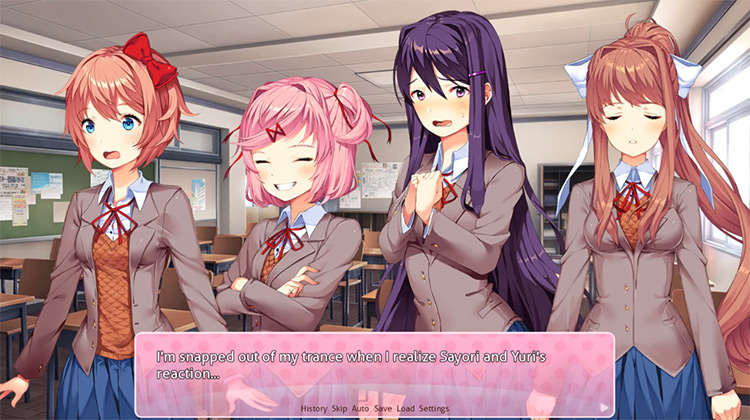 If MC's entire self-awareness in MC's Revenge was too much for you, Doki Doki Relapse is a refreshing change of pace.
The MC regains memories of the events of Act 1 in Doki Doki Relapse, but he doesn't understand why.
All the girls will be in this Mod, and you can talk to them in an alternate timeline.
With this short Mod, you can prevent things to happen in future.
15. DDLC Nightmare
If you enjoy the psychological horror parts of DDLC, you'll probably enjoy DDLC Nightmare as well.
Because it was created as a result of a mod contest in which the creator was given horror as their allotted topic, DDLC Nightmare takes a full-on horror approach to the game.
I don't know about you, but I find that combining cute and terrifying makes things look even creepier, which is precisely what this Mod does.
14. True Literature Club
The topic of mental health is another key concern addressed by DDLC.
There aren't many games that address this sensitive topic, and Doki Doki does a good job of it.
Tormuse, the modder, wanted to concentrate on that feature and develop it further, and the result is his True Literature Club mod.
It's a bit different than Doki literature club mods.
He thought that suicide and despair were primarily employed for shock effect in the original game, and he wanted to make a version that dealt with these issues more compassionately.
It doesn't totally eliminate the harsher themes, but it is a more gentle experience than the original.
13. Our Final Heartbeat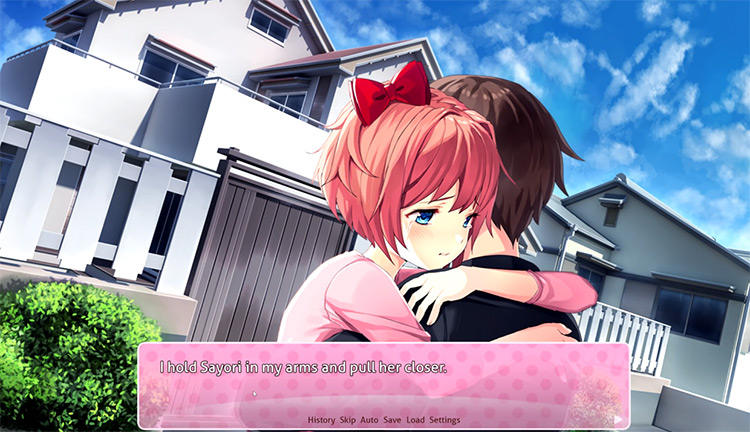 ThisModd can give many, or you can say multiple endings, which many fans wanted because there is already a decisive ending in-game. Because in DDLC, there are lots of dark endings, so this Mod will help you have a happy ending of different characters.
That's not going to work. But, on the other hand, Our Final Heartbeat might be our best chance.
For this reason, the Mod has been dubbed the best 'Save Them All' add-on.
This is only available once you've completed the original game and received an acceptable ending, as it shows what happens if no one is left behind.
12. Doki Doki Meme Club
While the emotional rollercoaster that is DDLC is amazing, it would be a good idea to take a break from some of the darker content for some lighthearted entertainment.
The majority of these expansion mods have their own passionate stories, while Doki Doki Meme Club merely wants to be as amusing as possible.
For many fans, this is the bestModd from the beginning, and you will forget about Doki literature club mods, and even this mode has a normal vision.
TheModd adds memes to your game, and reading through the jokes and references in the dialogue is a lot of fun.
Given that this article is about Internet memes don't be shocked if a few rude jokes are included.
11. Dokis & Dragons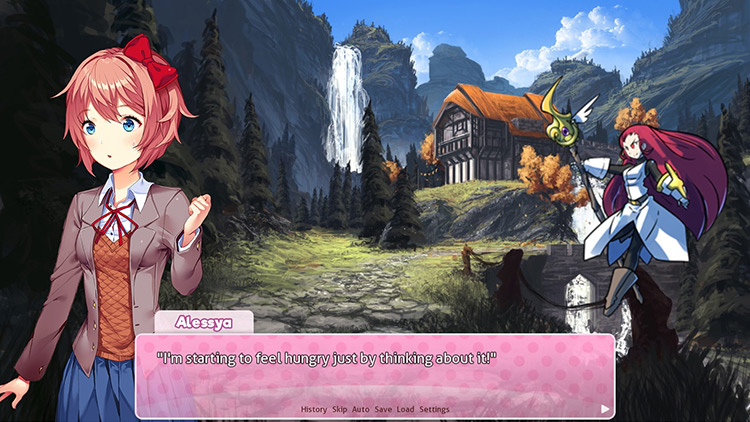 Dokis & Dragons is a mix of Doki Doki Literature Club with the famous tabletop game Dungeons & Dragons, as the name suggests.
The literature club becomes a D&D club as a result of the Mod, veering away from the typical DDLC events.
Instead of penning poems, you'll be spending your time with the girls playing tabletop RPGs, complete with dice rolls that can result in unexpected outcomes.
ThisModd is kind of short if you compare it with other Mods out there. But it's worth a chance, especially since it's one of the oddest concepts around.
Brand New Day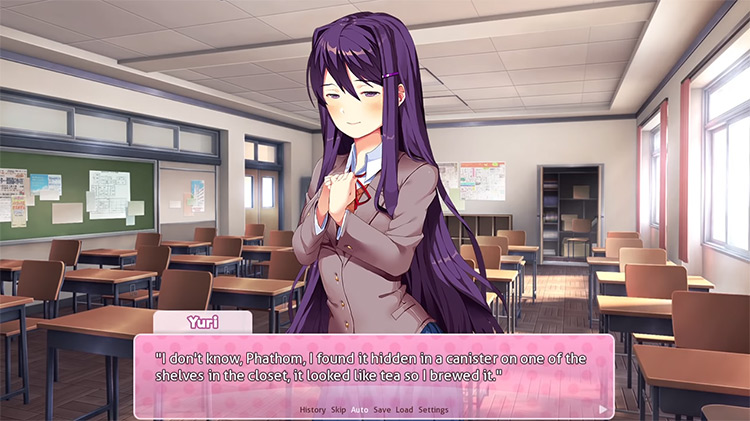 If you don't want the full story up as in the comic setup or what was written in the comic, you can use this Mod to make it new, not like the original story.
I hope they also give a new character with a completely unique Mod, but a girl named Yuri can be a good character for you because she is a transfer student.
While it doesn't fully modify the game, it takes a much lighter, more comical approach to storytelling, giving every scenario a lighthearted tone.
Who doesn't like the twist in the game or anime, and when it is unexpected, it's more fun to lift you up when you play it? This Mod will let you enjoy the work of art and other things.
9. Doki Doki Salvation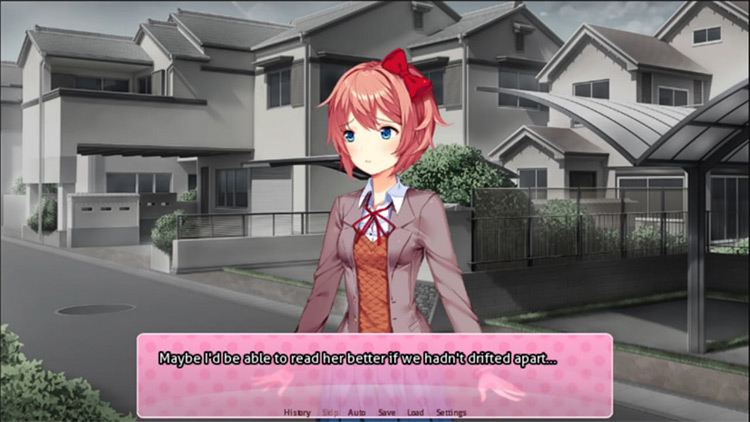 Doki Doki, another lighter take on the plot, gives a different storyline that is significantly less grim than the original.
This Mod Salvation throws a curveball as Sayori decides to commit suicide just before the festival.
The events are rearranged so that the MC checks on her on the night of her alleged suicide, successfully preventing it from occurring.
Monika's personality is also harmed by the fact that she can no longer change the game.
8. Doki Doki Exit Music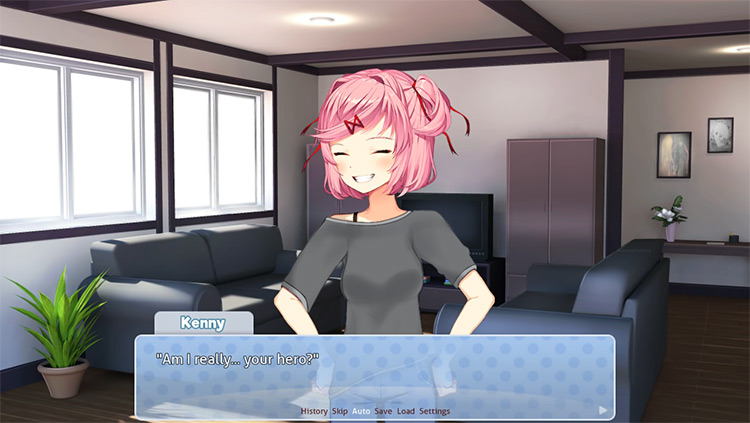 As you may have observed, many of the other tales feature the MC, saving most girls from their problems.
While Doki Doki Exit Music maintains the same course as the previous game, it isn't afraid to be just as emotional.
ThisModd allows you to avert Sayori's suicide and rescue Natsuki from her violent father, after which you'll be able to play through an entirely new plot based on those events.
With several endings and a soundtrack inspired by Radiohead's music, you're likely to have a similarly intense experience with this one.
7. Longer Roads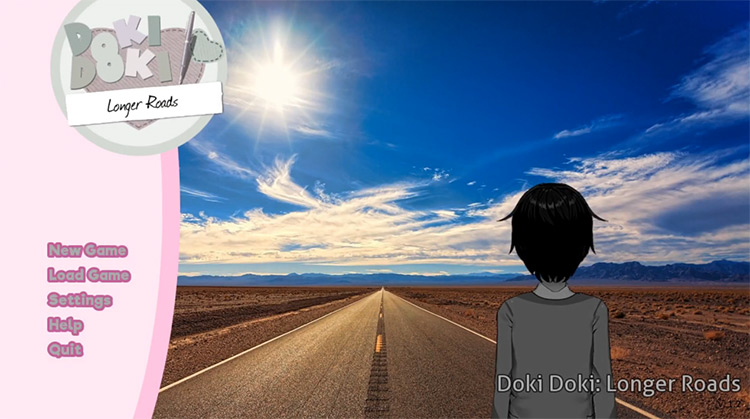 Longer Roads tries to broaden the experiences with each of the four females in DDLC, whereas many of these mods focus on changing the events of a specific character's plot.
As the name implies, the mode dramatically expands each of the four characters' arcs, allowing for a unique path for each of them.
This offers you the option of deciding who the storey will centre on.
It has ten alternative endings to find, and not all of them are pleasant, in classic DDLC form.
6. Fallen Angel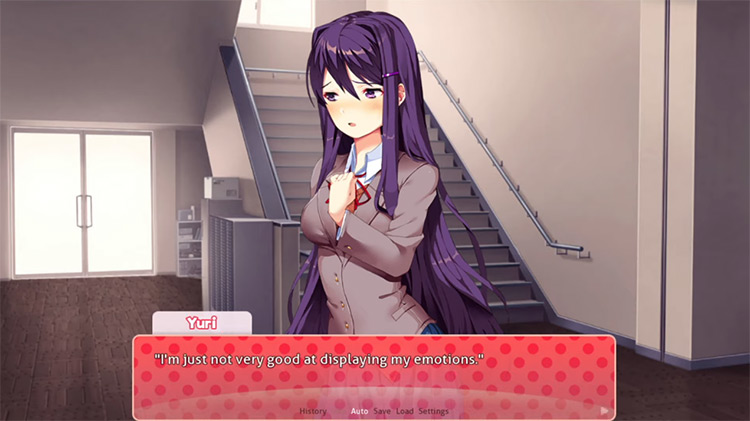 Next, create a mod that focuses solely on Yuri's storey and goes much deeper into her problems than most other mods.
Fallen Angel has an alternate storyline in which Monika isn't aware of herself, and you discover that you and Yuri have been growing closer.
This aims to achieve the same level of emotional intensity as swinging from happiness to despair.
Aside from the additional storyline, the Mod contains nearly 6 hours of playable material and new artwork and music.
5. Outcast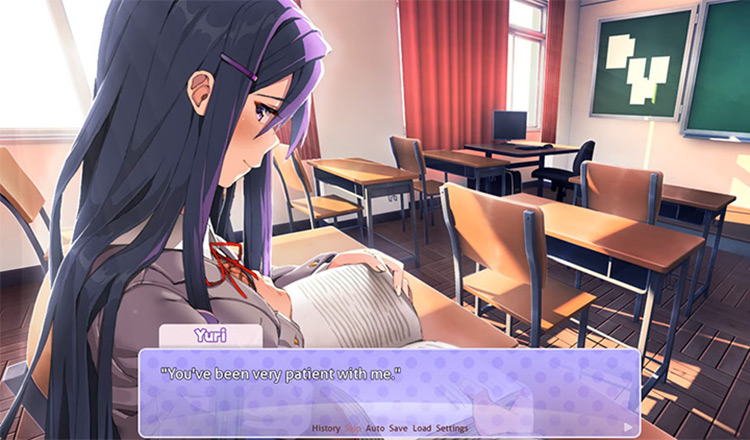 We've got this one for the Yuri enthusiasts out there, and MatterCrafter's Outcast is the best choice.
TheModd, which came in second place in Reddit's Best Yuri Mod of 2019, is a more in-depth look into who Yuri might have become if Monika's manipulation hadn't happened.
The additional storyline adds 3-5 hours of gameplay time and new circumstances and character decisions that will affect how the tale unfolds.
4. New Eyes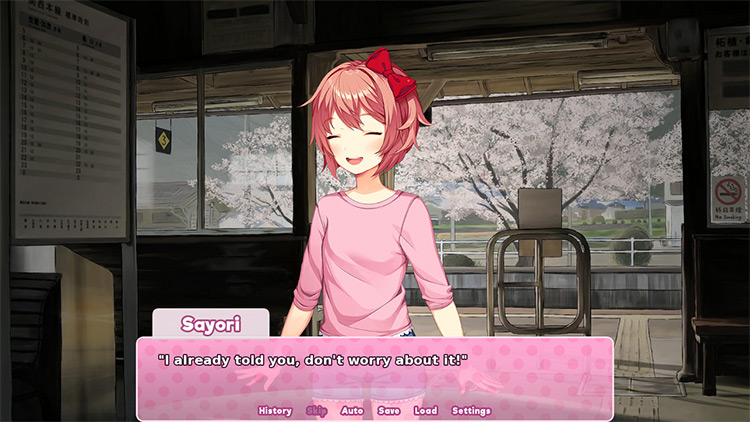 New Eyes is a Yuri mod once more. Don't be scared, though. This one differs from the others in that it takes a different approach.
Instead of delving deeper into Yuri's backstory, the update turns her become the game's main protagonist, allowing you to see Acts 1 and 2 via her eyes.
I'm convinced that the Mod won't disappoint because it comes from the same team that brought us one of the most popular DDLC mods (listed a bit further down this list).
3. The Good Ending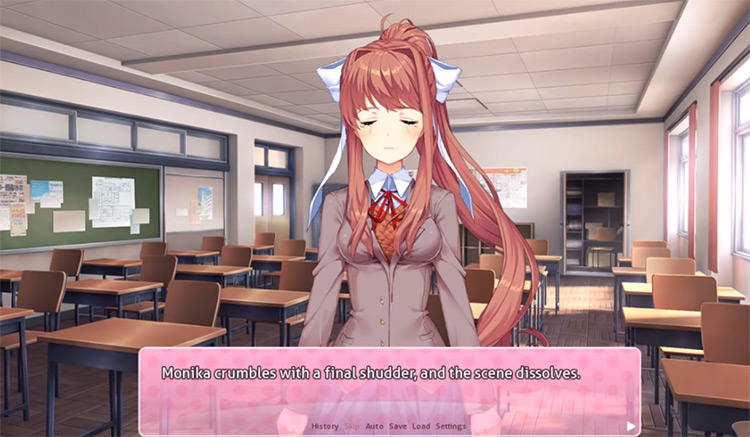 The Good Ending is a fully original take on a DDLC parallel plotline in which each of the Dokis repeats the events of Acts 1 and 2 again and over, with their recollections wiped each time.
When MC wakes up with all of his memories intact, things start to get interesting.
He now understands what is about to happen and desires to put his newfound knowledge to good use in order to save everyone.
2. Doki Doki Do You Lift Club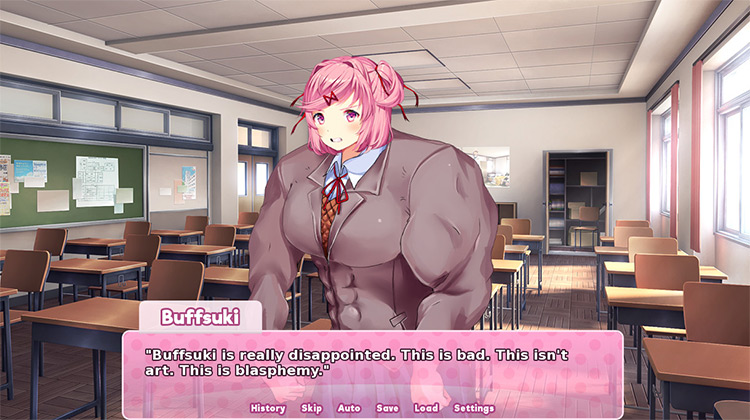 The buffing or muscle Mods are insane, and seriously, it's funny also that people like this, but still everyone have their own choice.
Another mod by CykaDev takes the second slot on the list, but this one is a little less serious than their other work.
In Doki Doki Do You Lift Club, a spoof of DDLC, Slavyori, Buffsuki, Yuronk, and Monicules are converted into Slavyori, Buffsuki, Yuronk, and Monicules, buffed-up versions of their cute anime counterparts.
1. Doki Doki! RainClouds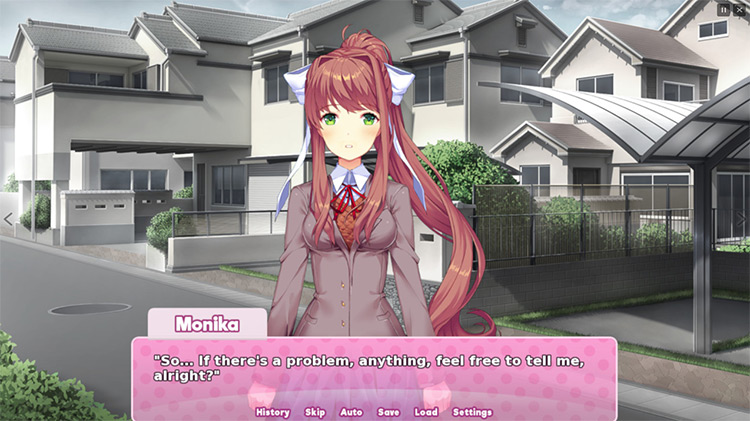 It's no surprise that CykaDev's RainClouds is at the top of the list, as the community universally regards it as one of the best modifications for the game.
The majority of mods attempt to avoid Sayori's misfortune. RainClouds, on the other hand, transports you right to the heart of the action.
RainClouds, a fresh perspective on DDLC, transports you back to the beginning – but this time, via Sayori's eyes.
Feel her anguish and pressure like you've never felt before, and see whether you can change her fate in the end.
how to use ddlc mods
By installing with DDLC installer.
how to get buff Natsuki?
By downloading Doki Doki Do You Lift Club Mod
can you save sayori Doki Doki?
Yes.
why Monika is the best girl?
because she is smart and strong mentally but what made her stand out is her beauty.
how long does it take to finish the Doki Doki literature club?
30 or more hours
is there a way to save sayori?
Yes there is a way to save Sayori with summer mod.
You might be interested in this list – https://thebestofotaku.com/anime-tomboys/